---
---
[1.0] Early US Cruise Missiles
v1.0.1 / chapter 1 of 3 / 01 apr 18 / greg goebel
* Following experiments with unpiloted "flying bombs" or "aerial torpedoes" into the late 1940s, in the 1950s, the US military fielded a range of cruise missiles, these weapons being used in large quantities. None of them saw combat, and they were largely retired in the course of the 1960s.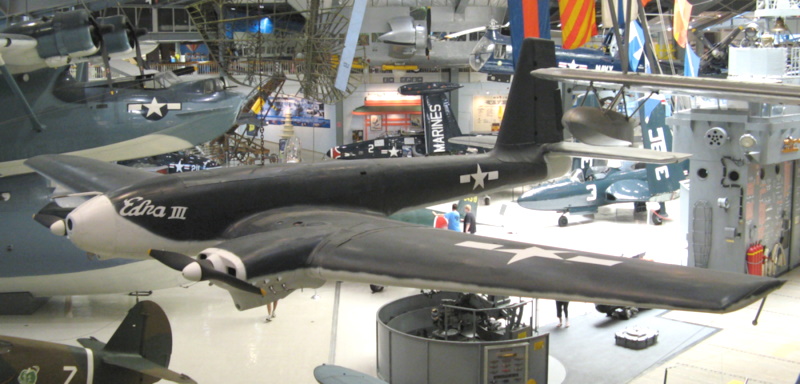 ---
[1.1] PROLOGUE: TDR-1 & BQ SERIES
[1.2] US AIR FORCE MATADOR & MACE
[1.3] US NAVY REGULUS I & II
[1.4] AIR FORCE SNARK
[1.5] NAVAHO & TRITON
[1.6] PROJECT PLUTO
[1.7] US AIR FORCE HOUND DOG
[1.8] ADM-20 QUAIL DECOY
---
* The notion of the cruise missile, originally called the "aerial torpedo", goes back to the First World War, leading to experiments after the conflict with little biplane flying bombs, such as the Kettering "Bug". Between the wars, such experiments in the US and elsewhere amounted to little; it wasn't until World War II that serious attention was given to the idea by the US Navy and US Army Air Forces (USAAF).
During the 1930s, the British experimented with radio-controlled drone aircraft. A senior US Navy admiral witnessed tests of a British drone in 1936 and found the concept very interesting, with a US Navy program then set up under Lieutenant Commander Delmar S. Farnhey. By 1937, Farnhey's team had converted a number of light aircraft to radio-controlled targets and used them in exercises.
The next year, 1938, Farnhey decided to try a bomb-carrying "assault drone" in naval exercises. It was shot down, but the idea didn't go away, with Farnhey considering use of the newfangled television camera in such applications. In fact, RCA's Dr. Vladimir Zworykin, one of the prime movers behind the development of television, had been promoting the idea of a television-guided assault drone for some time, but nobody in the military was listening until Farnhey got in touch with him. The first television-guided drone, using an RCA-developed television system, was demonstrated in 1940.
* There matters more or less stood, until the Japanese attack on Pearl Harbor on 7 December 1941. The US military was thrown into the war more abruptly than anyone had planned, and one of the results was consideration of a wide range of new weapons that might help win the war. A secret program to build an assault drone, codenamed Project OPTION, was formally begun in February 1942, under the direction of Commodore Oscar Smith, with assistance from Farnhey and Zworykin.
By April 1942, the project had performed a successful torpedo attack using an assault drone. Films of the exercise provoked high interest among the senior brass and civilian leadership, with OPTION raised in priority and plans to build 5,000 assault drones for deployment with 18 drone squadrons. One of the consequences of this good fortune for the drone program, however, was that critics began to hammer on the effort as a waste of resources.
Farnhey countered by directing the development of a low-cost assault drone, the "TDN-1", which was constructed by the US Naval Aircraft Factory and was built mostly of wood. The "TD" stood for "Torpedo Drone", of course, while the "N" was a code for the Naval Aircraft Factory. The TDN-1 featured a high wing, twin small piston engines, and fixed tricycle landing gear. It could carry a torpedo or 900-kilogram (2,000-pound) bomb nested under its fuselage, at a cruise speed of 280 KPH (175 MPH). A conventional cockpit could be swapped out for the TV control system for tests or ferrying. Only about 114 TDN-1s were built. The design was not well-suited for mass production, and the TDN-1s ended up being used for evaluation and as targets.
Official enthusiasm for the assault drone concept began to fade, but Smith and Farnhey were moving ahead on a production assault drone, the "TDR-1", built by Interstate Aircraft Company of Los Angeles -- the "R" code in the drone designation was for Interstate Aircraft. The TDR-1's general configuration was much like that of the TDN-1, but it was much more practical to build, with a frame of steel tubing covered by molded wood. The frame was provided by the Schwinn bicycle company, and the subcontractors for the woodwork included manufacturers of musical instruments. The two machines were externally similar, but easily told apart because the TDN-1 had a high-mounted wing, and the TDR-1 had a low-mounted wing.
The TDR-1 was powered by twin Lycoming flat-six air-cooled piston engines. Like the TDN-1, it could be piloted, and it was said to be very pleasant to fly, though not all that fast. The fixed landing gear could be ejected when the aircraft was on an attack run. However, the program was still on increasingly uncertain political ground, and it took intense lobbying by Smith and Farnhey to obtain approval for deployment of their "Special Task Air Group 1 (STAG-1)", which departed for the South Pacific in mid-May 1944.
The TDR-1s were controlled by Grumman Avenger torpedo bombers, modified to carry control systems and designated "TBM-1C". The radio control and TV reception antennas were carried in a retractable antenna dome in the Avenger's rear belly. The control system in the aircraft included a joystick and a remote control for the TDR-1's autopilot system. The autopilot remote control used, of all things, a telephone dial, with the appropriate autopilot control code set by just dialing a single digit -- one to drop a torpedo, one to arm a bomb, and so on. However, the control system only had four channels, and so it was only possible to fly four TDR-1s at a time in the same attack.
The first attack was conducted on 30 July, on a derelict Japanese freighter, the YAMAZAKI MARU, that had grounded itself near Cape Esperance on Guadalcanal Island in the Solomons. Six TDR-1s, with four intended for the attack and two as backups, were committed to the mission, all armed with 900-kilogram (2,000-pound) bombs. Two cracked up on take-off, two performed attacks that were frustrated by dud bombs, but two went off with very impressive bangs. It made for great film footage, but by that time the effort's standing was so low that Smith had to lobby very hard just to keep the program from being immediately canceled.
Beginning on 27 September 1944, STAG-1 conducted a series of attacks on Japanese installations on the island of Bougainville. When the attacks ended on 26 October 1944, STAG-1 had expended 46 TDR-1s in combat, with 37 performing attacks and at least 21 hitting their target. The Japanese found the attacks startling, believing that the Americans had taken up suicide attacks.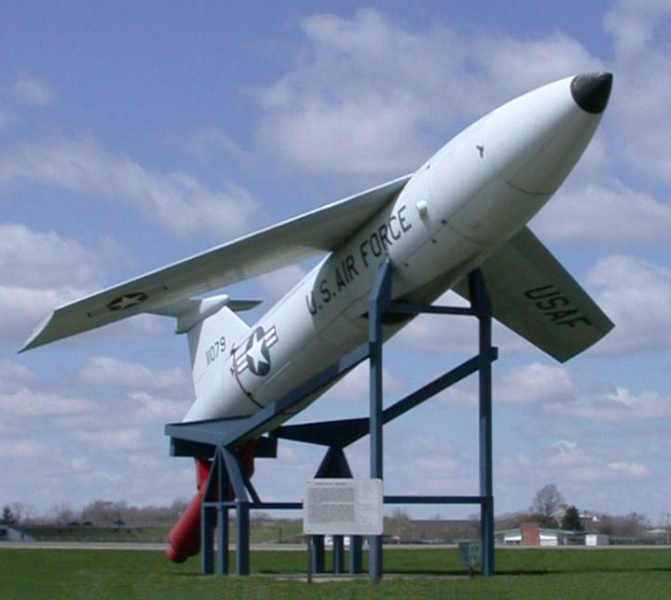 The end score seemed encouraging, but it wasn't enough to stave off cancellation. The TBM-1Cs were dumped into the ocean to dispose of them, while the personnel were reassigned to other duties. It was a bitter pill to swallow for the program's officers and men, but by that time the war was clearly going to be won by other weapons, and the TDR-1 was no longer seen as particularly relevant. Apparently some further work was done a "TDR-3" that featured radial engines, but though a picture of such a machine survives, it may have been a mockup, and it's unclear if it ever actually flew.
It is also unclear in hindsight if killing off the TDR-1 was the wrong decision. The TDR-1 had some potential, but the television system was very crude, with poor contrast and resolution. It was only adequate for picking out large distinct targets in relatively bright daylight conditions, and the complexity of the bulky electronics suggested that keeping things working in rough field conditions would be troublesome. The video link back from a drone was also easily jammed; the Allies had quickly developed jammers to neutralize German radio-guided glide bombs, and there was nothing to prevent the Axis powers from developing simple jammers of their own to neutralize the assault drones.
Some TDR-1s were used as private sports planes for a few years after the war. Only one of the 200-some TDR-1s survives, as a static display at the US Navy Air Museum in Pensacola, Florida.
* In the meantime, in early 1941, the USAAF awarded a contract to General Motors to develop a flying bomb, the "A-1". The General Motors A-1 was a radio-controlled monoplane that could carry a 225 kilogram (500 pound) bomb over a distance of 640 kilometers (400 miles) at a speed of 320 KPH (200 MPH). A number of A-1s were built, but the program was disorganized, and was canceled in 1943.
The USAAF pursued a series of other aerial torpedoes, under the general designation of "Controllable Bomb, Ground Launched", cryptically abbreviated as "BQ". The BQ series covered an interesting range of configurations, including purpose-designed weapons and conversions of the Fairchild AT-21 twin-engine crew trainer, as well as a single TDR-1 loaned from the Navy and evaluated as the "XBQ-4". However, the most ambitious and best known of the BQ weapons were radio-controlled conversions of "war weary" Boeing B-17 Fortress and Consolidated B-24 bombers, filled with explosives.
The converted Fortresses were given the designation of "BQ-7", and they were filled with 9 tonnes (20,000 pounds) of Torpex explosive. The BQ-7s were to take off under the control of a human pilot and copilot, who would bail out once the weapon was airborne, under remote control, and armed to explode. The roof of the cockpit was cut off to allow the crew to get out more easily. About 25 BQ-7s were produced under the codename APHRODITE. Crews referred to the bombers as "Weary Willies" or just "Willies", though this sounds like it was a general nickname for any war-weary aircraft. The BQ-7s were to be used in attacks on "hardened" German military installations under a plan known as Project PERILOUS. They were supposed to be accompanied to the target by a Lockheed Ventura director aircraft, along with piloted B-17 to provide navigation, as well as a Lockheed P-38 fighter to shoot down the flying bomb if radio control were lost.
There were a number of attempts to use the BQ-7 in combat, but the results were poor. One is said to have lost radio lock and circled an English city for some time, terrifying its controllers, and another is known to have crashed on British soil with a tremendous explosion, leaving a huge crater. The USAAF decided that PERILOUS lived up to its name only too well and abandoned the effort.
The converted B-24s were given the designation "BQ-8", and were built as a joint US Navy / USAAF project. They were filled with 11,340 kilograms (25,000 pounds) of Torpex. They had radio control and a television camera mounted in the nose. Two BQ-8s, converted from the US Navy version of the B-24 known as the P4Y, were produced as part of Project ANVIL, which also involved attacks on hardened German military installations. They were accompanied by a Ventura control aircraft working in conjunction with B-17, which was fitted with the television receiving equipment.
The first ANVIL mission, on 12 August 1944, ended in disaster, exploding in mid-air with a tremendous blast. The two crewmen, Navy Lieutenants Wilford J. Willy and Joseph P. Kennedy JR, were obliterated. Joseph P. Kennedy JR was the eldest son of the prominent Joseph Kennedy family. Joe Kennedy JR was being groomed for the American presidency; younger brother John Fitzgerald Kennedy ended up taking his place in the White House. The second BQ-8 mission, on 3 September 1944, inflicted some damage on German facilities in Heligoland, but missed its intended target due to poor TV reception. The BQ series was abandoned. The poor showing of the BQ weapons was apparently a contributing factor to the cancellation of the TDR-1.
* Work on unpiloted aircraft continued after the war, with B-17s and other aircraft converted into radio-controlled drones, though in general they were used as targets and not as aerial torpedoes. In late August 1952, six Grumman F6F Hellcat fighters, which had been converted to aerial torpedoes using improved technology based on that of the TDR-1 program, were used in attacks on a North Korean bridge, power plant, and railroad tunnel. They were controlled by Douglas AD-2Q Skyraider attack aircraft, and the hit rate was 50%.
As with the TDR-1, the results were encouraging, but the brass wasn't interested. Part of the reason was that by that time interest had moved on to jet-powered aerial torpedoes. In 1944, the Germans conducted an air assault on Britain using the "V-1" flying bomb, which was powered by a simple pulsejet engine, being kept on course with a gyroscopic guidance system, with a timer indicating when the V-1 would dive into the target areas. Swarms were fired at London and other targets; they were destructive and frightening, but not very effective in a military sense, doing nothing to stave off defeat for the German Reich.
However, the cruise missile had been used in combat in a serious fashion for the first time. The US built copies of the V-1 after the war as the "JB-2 Loon", and also built a flying-wing cruise missile, the "JB-10", but they amounted to little but training exercises. The Americans had bigger ambitions in cruise missiles.
BACK_TO_TOP
* The USAAF's work on the JB-2 led to a next-generation cruise missile, the "Matador". Martin was awarded a $1.8 million USD contract in 1946 to develop this weapon under project "MX-771", and conducted initial test launches of the "XSSM-A-1" and "YSSM-A-1" prototypes at White Sands Missile Range beginning in 1949 -- by which time the USAAF had become the US Air Force, established in 1947. The prototypes were redesignated "XB-61" and "YB-61" in 1951. Although the program was nearly canceled, the Korean War revitalized it, and a production contract was awarded to Martin in 1951. The "B-61A" Matador entered operational evaluation late in that year, and was accepted for operational service in 1954. It was redesignated "TM-61A" in 1955.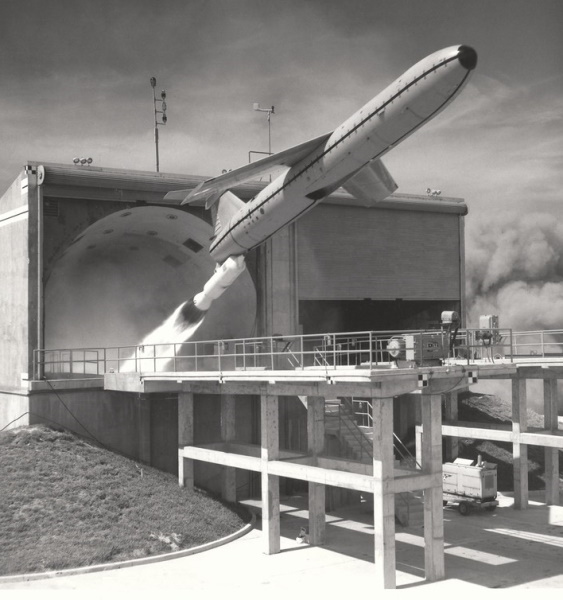 The "Matador-A", to simplify the issue of what to call it, was a mid-sized pilotless aircraft, with a high-mounted swept wing and a tee tail. It differed from the X/YB-61 prototypes, which had mid-mounted wings on a spindle-shaped fuselage. The Matador-A was launched by a single Aerojet-General solid fuel booster with 254 kN (25,850 kgp / 57,000 lbf) thrust, the booster being discarded after launch. It was one of the first aircraft of any type to use such a "zero length launch" scheme. In cruise flight, it was propelled by an Allison J33-A-37 turbojet engine with 20.5 kN (2,090 kgp / 4,600 lbf) thrust, with the air intake set flush into the missile's belly.


   MARTIN MATADOR-A:
   _____________________   _________________   _______________________
 
   spec                    metric              english
   _____________________   _________________   _______________________

   wingspan                8.74 meters         18 feet 8 inches
   length                  12.06 meters        39 feet 7 inches
   total weight            5,440 kilograms     12,000 pounds
   warhead weight          1,360 kilograms     3,000 pounds
   speed                   1,040 KPH           650 MPH / 560 KT
   cruise altitude:        10,700 meters       30,000 feet
   range                   1,100 kilometers    690 MI / 595 NMI
   _____________________   _________________   _______________________


The Matador-A was radio-guided by an operator tracking it on radar from a beacon carried on the missile. It was fitted with a 50-kiloton nuclear warhead, though some sources also state that it could be fitted with a high explosive warhead. The requirement for radio guidance limited its actual range to line of sight of the control center, and made the missile vulnerable to jamming. The Matador was launched from hardened shelters or from mobile trailer launchers.
The Air Force decided to build a considerably enhanced "Matador-B", discussed below, but development took longer than expected. As an interim measure, the USAF implemented a modestly improved version of the original Matador, designated "TM-61C". This "Matador-C" used the same airframe but had an improved "short range navigation vehicle (SHANICLE)" guidance system that allowed it to plot its own course by mapping its position from a network of microwave transmitter stations. The Matador-C was introduced in 1957 and eventually replaced all Matador-As in service. It is unclear if Matador-As were converted to Matador-Cs.
About 1,200 Matadors were built, with production ending in 1957. The weapon was deployed to West Germany, Florida, and Taiwan, and remained in service until 1962. The Matador-C was retroactively redesignated "MGM-61C" in 1963.
* Even as the Matador was being deployed, there were concerns that it was simply too troublesome to move around and launch, and that its radio guidance system was too easy to jam or spoof. This led to an improved version, originally designated "TM-61B", with initial test flights of "YTM-61B" prototypes in 1956. The new missile was clearly derived from the Matador, but it had a shorter wingspan and a longer blunt nose, and it was judged different enough to be redesignated "TM-76 Mace" in early 1958. It entered operational service as the "TM-76A Mace-A" in 1959.
The Mace-A had an advanced terrain matching guidance system, with the designation of "Automatic Terrain Navigation And Navigation (ATRAN)", developed by Goodyear Aircraft. ATRAN used a downward-looking radar sensor to map the ground track of the missile, and compared the observed track with a map stored on film. Unlike the Matador, the Mace-A could be transported in a fully assembled state, except for its solid-rocket booster.
The problem with ATRAN was that it required the missile to fly at low altitude, limiting range. It also required radar maps of the route to the target area, which were hard to make in the days before reconnaissance satellites. As a result, the Air Force quickly moved to the "TM-76B Mace-B", which replaced ATRAN with an inertial navigation system (INS) developed by AC Spark Plug. First launch was in 1960. The trouble with fitting the Mace with an INS was that it had to be launched from a precisely known position, which was difficult to determine from a mobile launcher in the days before navigation satellites. For this reason, the Mace-B was usually fired from a fixed hardened shelter.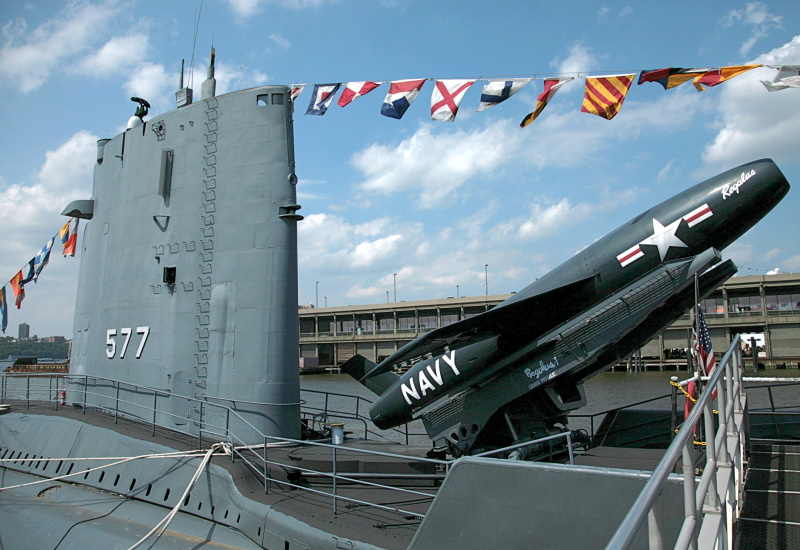 The Mace-B was launched by a single solid-rocket booster with 445 kN (45,350 kgp / 100,000 lbf) thrust, and powered by an uprated Allison J33-A-41 expendable turbojet engine with 23.2 kN (2,360 kgp / 5,200 lbf) thrust in cruise flight. The Mace-B had extended range, and was fitted with a 1.1-megaton fusion warhead.


   TM-76B / MGM-13B MACE B:
   _____________________   _________________   _______________________
 
   spec                    metric              english
   _____________________   _________________   _______________________

   wingspan                7 meters            22 feet 11 inches
   length                  13.4 meters         44 feet
   total weight            8,160 kilograms     18,000 pounds

   speed                   1,040 KPH           650 MPH / 560 KT
   cruise altitude:        10,700 meters       30,000 feet
   range                   2,200 kilometers    1,380 MI / 1,200 NMI
   _____________________   _________________   _______________________


The Mace was deployed to West Germany and Okinawa. In 1964, the Mace-A was redesignated "CGM-13A" and the Mace-B was similarly redesignated "CGM-13B". The Mace-A was phased out in 1966, followed by the Mace-B in 1971, when it was thoroughly obsolete. Some were converted into targets, with the designations "MQM-13A" and "MQM-13B".
The potential effectiveness of the Matador and Mace is hard to judge. They were very cheap and reliable weapons as far as their airframes went, and provided a degree of backup for tactical air strikes into Eastern Europe in the middle parts of the Cold War. However, their guidance systems were very crude. Since none of them were ever used in combat, the issue is academic.
BACK_TO_TOP
* While the US Air Force developed the Matador as their logical follow-on to the JB-2, the US Navy developed their own cruise missiles, the "Regulus I" and the "Regulus II", as a follow-on to their Loon experiments.
Work on the Regulus I was begun by Vought in 1946, with initial flight in 1951 from Edwards Air Force Base in California, using prototypes with retractable tricycle landing gear. The missile was intended to provide the Navy with a nuclear strike capability. Although the original concept was to launch the Regulus I only from submarines, the scope of the program was expanded to include launches from surface vessels and land sites. First launch from a ship was in 1952, followed by a launch from a submarine in 1953, the same year production began. The Regulus I was declared operational in 1954.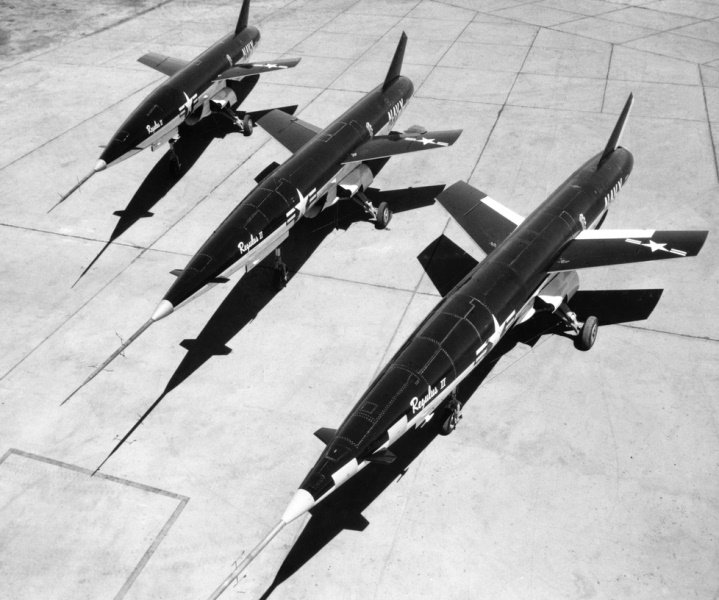 The Regulus I was originally designated "SSM-N-8" and later redesignated "RGM-6", with incremental "RGM-6A" and "RGM-6B" variants. It was cigar-shaped, with an air intake in the nose and swept-back wings in the middle of the fuselage. It had a tailfin but no tailplane, and used rudder and elevons for flight control. The wings folded for storage.
The Regulus I was launched by a pair of solid-fuel booster rockets from a simple launch rail, and was powered in cruise flight by an Allison J33-A-18A engine with 20.5 kN (2,090 kgp / 4,600 lbf) thrust. The missile was radio controlled and fitted with a nuclear warhead, either a W-5 fission warhead with a yield of about 40 kilotons or, from 1958, a W-27 fusion warhead with a yield in the megaton range.


   CHANCE-VOUGHT SSM-N-8 / RGM-6 REGULUS I:
   _____________________   _________________   _______________________
 
   spec                    metric              english
   _____________________   _________________   _______________________

   wingspan                6.4 meters          21 feet 
   length                  10.5 meters         34 feet 4 inches
   total weight            6,000 kilograms     14,520 pounds
   speed                   subsonic
   range                   800 kilometers      500 MI / 435 NMI
   _____________________   _________________   _______________________


Four diesel submarines, including the GRAYBACK, GROWLER, TUNNY, and BARBERO, were built to launch the Regulus I, while ten aircraft carriers and four cruisers were equipped with the missile as well. The GRAYBACK and GROWLER were built from scratch and could carry four missiles in a foredeck hangar, while the other three submarines were converted WWII boats and could only carry two missiles. The submarines surfaced for missile assembly and launch off a pivoting rail. Instead of booster rockets, carriers used a special trolley to launch the Regulus I off their aircraft catapults. The missile could be accompanied by a piloted controller aircraft up to the target area.
A total of 514 Regulus I missiles was built. Some of those with landing gear were used as targets, with the original designation of "KDU-1" and later "BQM-6C". Regulus I remained in service until 1964.
* The Navy attempted to build a ramjet-powered successor to the Regulus I, the Grumman "Rigel", but the development program was a fiasco and Rigel was canceled in August 1953. The Navy turned back to Vought to develop the supersonic "Regulus II".
The Regulus II, designated "SSM-N-9" and later "RGM-15", was a sleek, pretty dart of a missile, with swept wings and no tailplane like the Regulus I, but with the air intake under the belly ahead of the wings and small canard fins on the nose. The wings and tailfin folded for storage. Preliminary design work began in 1951, with Vought submitting a proposal to the Navy in late 1952, and the Navy awarding the company a development contract in April 1954, specifying construction of prototypes.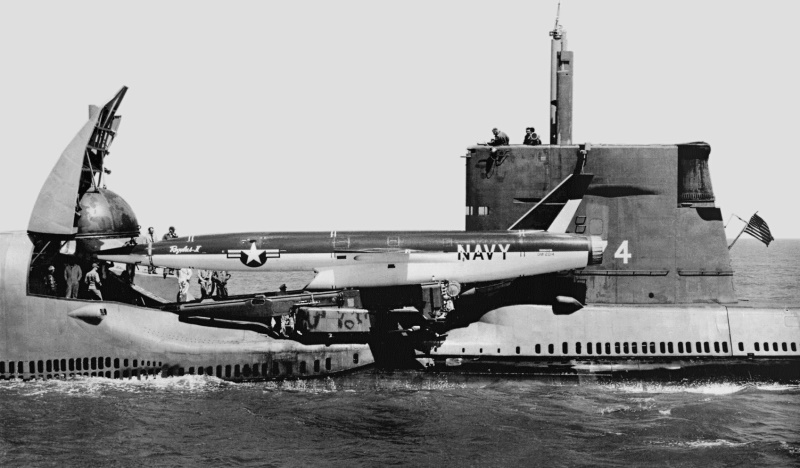 The initial prototypes were fitted with retractable tricycle landing gear and a drag parachute, allowing them to take off and land from an airstrip, and were powered in cruise flight by a Curtiss-Wright J65 turbojet, an American copy of the British Sapphire engine. The Sapphire was strictly an interim fit, however, since it could not support sustained supersonic flight, and production missiles were fitted with a General Electric J79 afterburning turbojet engine, providing 66.7 kN (6,800 kgp / 15,000 lbf) thrust.
Production missiles were launched off a rail by a solid-fuel booster rocket with 512 kN (52,160 kgp / 115,000 lbf) thrust. The Regulus II flew in continuous afterburner, operating at high altitude in supersonic cruise at Mach 2 plus. It had a large fuel supply to provide the required range and featured an automatic fuel trim system. The Regulus II was guided by an INS. The warhead separated during terminal dive to target. This made interception more difficult, and also eliminated the need to stress the airframe to tolerate a dive.


   CHANCE-VOUGHT SSM-N-9 / RGM-15 REGULUS II:
   _____________________   _________________   _______________________
 
   spec                    metric              english
   _____________________   _________________   _______________________

   wingspan                6.12 meters         20 feet 1 inches
   length                  17.5 meters         57 feet 6 inches
   total weight            11,000 kilograms    24,250 pounds
   speed                   Mach 2
   range                   2,220 kilometers    1,380 MI / 1,200 NMI
   _____________________   _________________   _______________________


Initial flight of a prototype was on 29 May 1956, at Edwards Air Force Base in California. The first rocket-boosted launch was on 13 November 1957, also from Edwards. First launch from a submarine was on 16 September 1958, with the GRAYBACK doing the honors. The older TUNNY and BARBERO couldn't handle the Regulus II, but the GRAYBACK and GROWLER could carry two. A nuclear-powered boat, the HALIBUT, was designed specifically for Regulus II launch, carrying four missiles. Some sources claim that a terrain-following navigation system was considered for the missile late in the development cycle.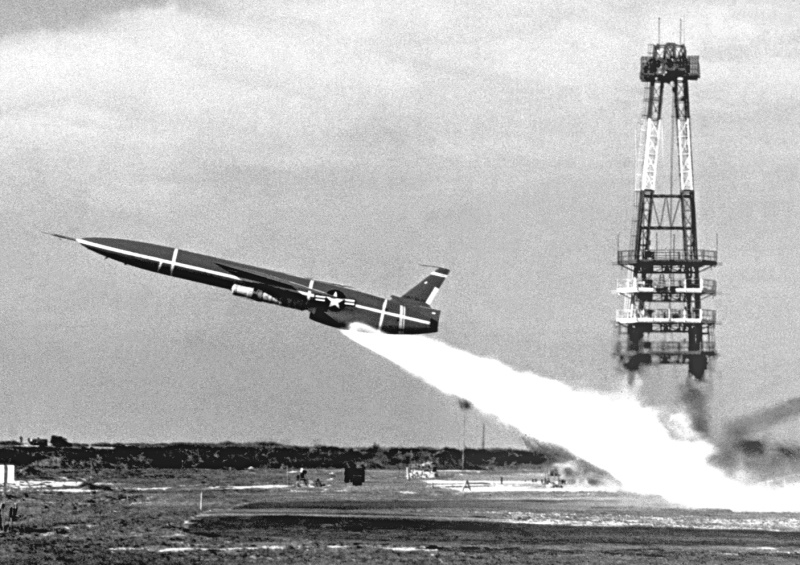 However, the Navy's move towards submarine-launched ballistic missiles led to the cancellation of the Regulus contract in December 1958. The HALIBUT would become the only one of her class, ending up being modified as a one-of-a-kind "special mission" submarine, with special missions including spy operations. The Vought development team was very disappointed, since the missile was flying very well at the time, but the Polaris was simply a much more effective weapon in every sense. Only 54 Regulus IIs were built. The survivors were converted into high-speed targets; they were originally designated "KD2U-1" and later redesignated "MQM-15A". Their high performance made them very well suited to this role, and remained in service up to the end of 1965.
BACK_TO_TOP
* The Air Force "Snark" cruise missile was intended for intercontinental nuclear attack, and was much more ambitious than the Matador/Mace or Regulus I. After a study program initiated in late 1945, in March 1946 the Army Air Forces awarded Northrop a contract for "MX-755" program, which specified development of two weapons, the subsonic "MX-755A Snark" and the supersonic "MX-755B Boojum". The odd and entirely unmilitary names were derived from Lewis Carroll's nonsense verse "The Hunting Of The Snark".
The Boojum would never be built, and details of the effort are unclear. The Snark had the company designation of "N-25" and was assigned the military designation of "XSSM-A-3" in 1947. Development was somewhat protracted, with the first successful flight of the Snark in April 1951. The Snark was also powered by an Allison J33 turbojet. It had swept wings mounted forward, and had a tailfin but no tailplane, using "elevons" on the wings for flight control. The air intake was under the belly. The XSSM-A-3 Snark was launched off rails on a sled and remotely controlled by radio.


   NORTHROP XSSM-A-3 SNARK:
   _____________________   _________________   _______________________
 
   spec                    metric              english
   _____________________   _________________   _______________________

   wingspan                19 meters           42 feet
   length                  15.9 meters         52 feet
   total weight            12,700 kilograms    28,000 pounds
   speed                   subsonic
   range                   2,480 kilometers    1,550 MI / 1,340 NMI
   _____________________   _________________   _______________________


Northrop worked on an INS with stellar navigation backup for the XSSM-A-3, but did not complete full development of that variant of the missile. The Air Force significantly raised range and payload requirements, and so Northrop had to redesign the missile substantially. The new variant had the company designation of "N-69". It originally had the Air Force designation of "B-62", which evolved through a short series of prototype subvariants, to eventually result in the "XSM-62A". It was referred to as the "Super Snark". A long-range reconnaissance drone version was considered, but not proceeded with.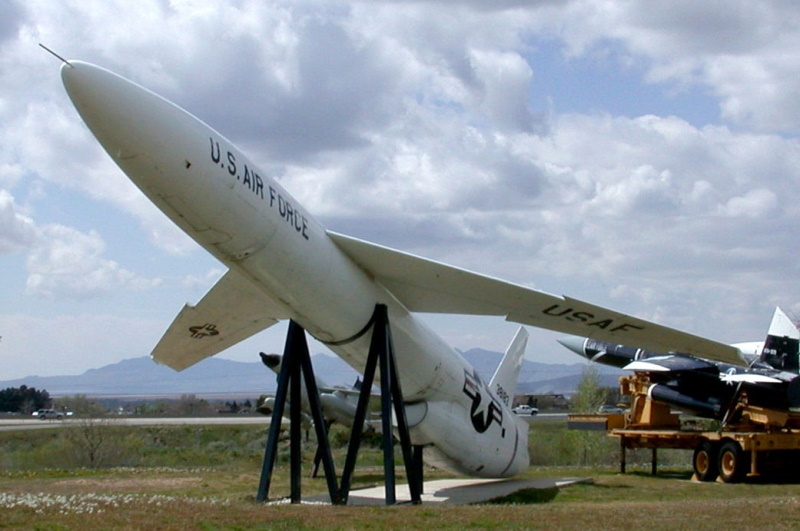 The SM-62A had a similar configuration to the SSM-A-3, but was substantially bigger. The wing was swept back 45 degrees; had a "dogtooth" on the leading edge; and, like its predecessor, had a tailfin with no tailplane and used elevons for flight control. The wings could be detached with relative ease to allow the missile to be transported by air. The SM-62A was boosted into the air by a pair of solid-propellant RATO boosters, each providing 580 kN (59,000 kgp / 130,000 lbf) thrust for four seconds. The missile was powered in cruise flight by a single Pratt & Whitney J57 turbojet engine with 46.8 kN (4,770 kgp / 10,500 lbf) thrust. The missile carried fuel in a large external tank under each wing, which were discarded when empty, and had a large volume of internal fuel storage.
The Snark was guided by the star-tracking INS under development by Northrop. Like the Regulus II, the Snark was to be armed with a nuclear warhead that separated from the missile during terminal attack.


   NORTHROP SM-62A SUPER SNARK:
   _____________________   _________________   _______________________
 
   spec                    metric              english
   _____________________   _________________   _______________________

   wingspan                12.9 meters         42 feet 4 inches
   length                  21 meters           68 feet 10 inches
   weight                  22,700 kilograms    50,000 pounds
   speed                   subsonic
   range                   9,660 kilometers    6,000 MI / 5,220 NMI
   _____________________   _________________   _______________________


Flights of early test prototypes began in 1953, leading to test flights of preproduction prototypes in 1957. Development of the Snark was unusually troublesome. The ocean off its Florida test site became known as "Snark-infested waters"; in 1956 one Snark decided to head south on its own and vanished from sight, only to be discovered in the Brazilian jungle by a farmer in 1982.
The Snark was put into service for operational evaluation in 1959, but it was never very satisfactory, being both vulnerable to enemy air defenses and much too inaccurate even with a large fusion warhead. It was eventually eclipsed by the development of ICBMs such as Titan and Atlas. The Snark reached full operational status in late March 1961, only to be almost immediately withdrawn from service in June by US President Kennedy, who correctly declared the big cruise missile "obsolete and of marginal military value".
BACK_TO_TOP
* The Air Force had greater ambitions than the Snark, working on the North American "Navaho" -- which would turn out to be too ambitious, becoming one of the most "snakebitten" weapons development programs of all time. Initial studies began in 1947 under project "MX-770", leading to award of a development contract for what was then designated the "SSM-A-2 Navaho". As defined at this stage, the missile was to have cruciform fins, with a ramjet mounted on the tip of two of the fins, and a built-in rocket booster. It was to have a range of 1,600 kilometers (1,000 miles).
Work on prototypes was underway in 1950 when the program was drastically redefined to produce a strategic weapon with a range of 8,000 kilometers (5,000 miles). The missile would be powered by twin ramjets, in this case fitted into the fuselage, and launched by a large liquid-fuel rocket booster. The effort was given the designation of "Weapons System 104A (WS-104A)". Prototype missiles were to be designated "XSSM-A-4 Navaho II" and production weapons were to be designated "XSSM-A-6 Navaho III". The designations would prove a moving target, becoming "XB-64" and "XB-64A" respectively in 1951, then "XSM-64" and "XSM-64A" in 1956, with both variants simply called "Navaho" without a numeric suffix.
The Navaho would cruise at Mach 3. Since such speeds were at the leading edge of the technology of the time, eleven prototypes of the cruise missile portion of the Navaho were built with retractable tricycle landing gear and radio control to investigate such high-speed flight. These prototypes, originally designated "RTV-A-5" but known as "X-10" in service, had a rear-mounted delta wing, a vee tail, and canard fins on the nose. They were powered by twin Westinghouse J40-WE-1 turbojets, had a length of 21 meters (70 feet), and a wingspan of 8.5 meters (70 feet). The initial flight of the X-10 was in October 1953. One of them attained a maximum speed of Mach 2.05 during the flight test program, which was a world's speed record for jet-powered aircraft at the time.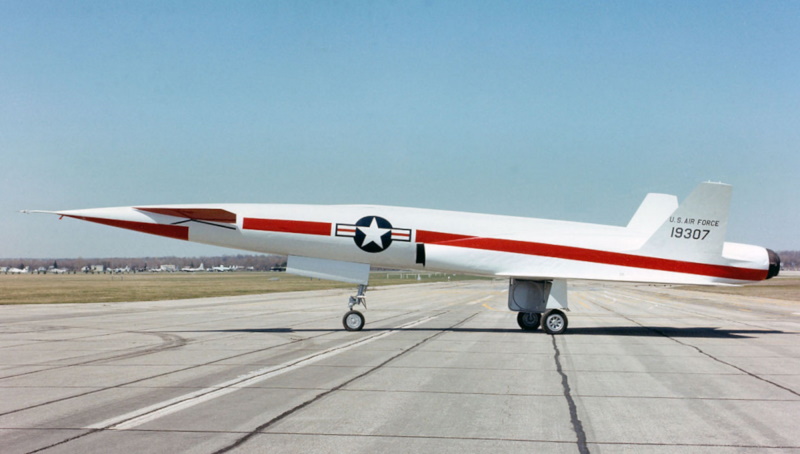 The cruise missile component of the XSM-64 was very similar to the X-10, but powered by a pair of Wright RJ-47 ramjet engines, each providing up to 176 kN (18,000 kgp / 40,000 lbf) thrust. It was launched vertically in a piggyback configuration by a large liquid-fuel booster 23 meters (76 feet 3 inches) long, and cruised to target at an altitude of 27.5 kilometers (90,000 feet) under guidance of an INS that also permitted the missile to maneuver around defenses. The XSM-64A was to have been larger and of somewhat modified configuration. It was to carry a four-megaton warhead.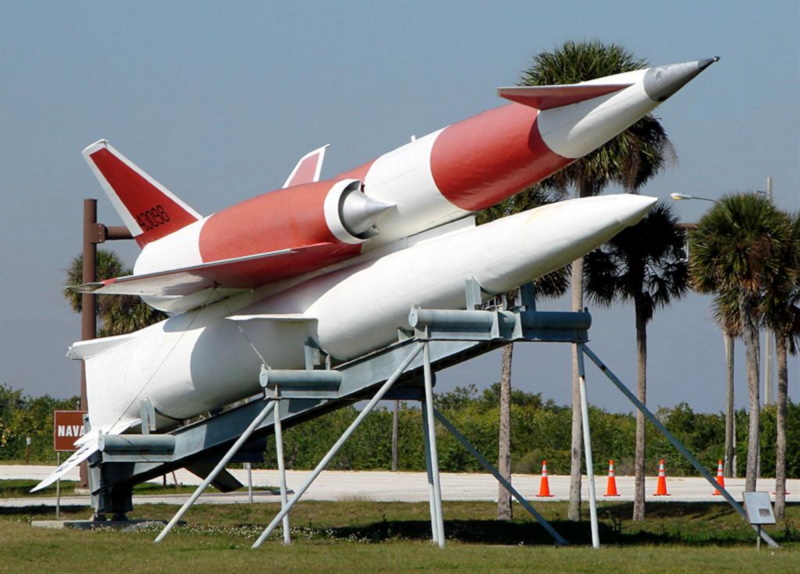 The Navaho was just too much technology too soon. The first flight, in November 1956, simply shook itself to pieces 26 seconds after launch. It wasn't until the fifth flight in August 1957 that the missile lasted long enough for the cruise missile stage to start up its ramjets, and it didn't last much longer than that. The cruise missile stage for the XSM-64 had retractable landing gear for trials purposes, but not one lasted through an entire flight and not one was recovered. The program had actually been axed in July 1957 after the expenditure of $800 million USD -- partly because of escalating costs, and partly because ICBMs were clearly the way of the future. No XSM-64As were ever built.
The fifth flight was simply for experimental purposes, using airframes that had already been built. There would be six more such experimental flights and not one would be completely successful, though some useful data on high-mach flight was apparently obtained. The missile is remembered by the nickname of "Never-Go Navaho". The work on the Navaho did prove highly significant for ICBM development. The rocket engine developed for the booster stage was the basis for the rocket engines for the Atlas and Thor missiles, which were never much as weapons but proved to be outstanding space launch vehicles, and the work on the Navaho's INS led to operational INS systems for both missiles and submarines.
The US Navy attempted to build a ramjet-powered cruise missile designated the "XSSM-N-2 Triton", with speed and range exceeding that of the Navaho, to be launched from ships and submarines. Initial studies were conducted in 1946, but the development program was characterized by a zigzag path of changing specifications as successive goalsets were judged too ambitious. The specifications were finally lowered to the level where the Triton hardly seemed to be much of an improvement over the Regulus II, and so the Triton was canceled in 1957. No prototypes were ever flown, and in fact it is unclear that any serious hardware was ever built.
BACK_TO_TOP
* If the Navaho was a dead end, it at least managed to get off the ground. Another US cruise missile effort, using a nuclear-powered ramjet, was doomed from the start.
The nuclear ramjet effort, "Project Pluto", was initiated at the US Lawrence Livermore National Laboratory at the beginning of 1957. The idea was conceptually simple: instead of burning fuel as in a conventional ramjet, the air passing through the Pluto ramjet would flow through an atomic reactor core, expanding as it was heated and providing 156 kN (15,875 kgp / 35,000 lbf) thrust. Range would be effectively unlimited. Of course, building the reactor for such an engine was very difficult. "Tory", as the reactor was named, had to be powerful, but compact and lightweight. It was to operate at 1,370 degrees Celsius (2,500 degrees Fahrenheit), a temperature level that challenged the materials technology of the time.
The cruise missile that would use the Pluto ramjet was designated the "Supersonic Low Altitude Missile (SLAM)". SLAM was to be launched with three solid-rocket boosters, and would cruise at Mach 3 low to the ground, finding targets using a terrain-matching system like that of the Matador. SLAM would carry a number of fusion bombs and attack multiple targets. The development team also believed the Mach 3 shockwave would do considerable damage along its low-altitude flight path, and the Pluto ramjet's exhaust would scatter fallout behind it. In fact, once the missile had expended its load of bombs, it could simply fly around an enemy country, leaving a trail of radioactive fallout, until it was shot down or crashed.
The Pluto reactor effort involved the construction of an elaborate static test site at Jackass Flats in Nevada. An unmanned rail system was built to shuttle the reactor between the test range and the disassembly facility, where it would be taken apart by remote control for examination. The initial test of a prototype Tory reactor was conducted on 14 May 1961, with the system running for a few seconds at a fraction of full power. That was a proof-of-concept test, and it paved the way for a much improved Tory prototype, which was test-run several times in May 1964 at operational power. The exhaust proved less radioactive than expected.
However, by that time, a major case of second thoughts had set in. SLAM was simply too "dirty" and expensive, and the US was already fielding a ballistic missile force that could devastate any potential adversary, able to reach targets much faster than even the Mach-3 SLAM. Critics began to snipe that "SLAM" actually meant "Slow Low And Messy", and it became increasingly difficult to understand what the point of it was. Buying more ballistic missiles seemed far cheaper and more effective, and they were available, while SLAM wasn't even close to flying.
In fact, SLAM posed some hideous technical problems that had been swept under the rug. Test flights were going to be dirty if all went perfectly well, and if things could be assumed to go perfectly well, there would be no need for tests. The idea was to fly a prototype in circles over the Pacific Ocean and then crash it into the sea over a deep-ocean trench. If it decided the slip the leash, as Snarks had done many times, there was the frightening prospect that it might cruise over or be shot down into a populated area. Engineers have a saying: "If it hasn't been tested, it doesn't work." The corollary is that if it can't be tested, there's no way to ever be sure that it works.
Project Pluto was canceled by the Air Force and the US Atomic Energy Commission on 1 July 1964. Project cost to that time was $260 million USD in contemporary dollars, with a peak headcount of 450 people. The project did result in some advances in materials science, but fortunately it did not result in a production machine -- America did not need a weapon that was expensive, comparatively ineffective, untestable, and an environmental nightmare.
The US and the USSR also investigated nuclear-powered bombers in the era, to both conclude that it was a really mad, bad, and crazy idea. Project Pluto was worse, remaining something of a monument to the "atom crazy" mentality of America at the time, as well as to Lawrence Livermore's occasional tendency to go off the deep end.
BACK_TO_TOP
* Arguably the most successful US cruise missile of the 1950s and 1960s was the North American "AGM-28 (originally GAM-77) Hound Dog", which was said to have been named for some obscure reason after the Elvis Presley hit pop tune, "You Ain't Nothin' But A Hound Dog".
Development of the Hound Dog began in 1957 as "Weapon System 131B", with initial flights in April 1959 and first operational deployment in late 1959. Development was quick because the design leveraged as much as possible off an existing technology, for example, using an airframe configuration heavily influenced by the Navaho and a guidance system derived from Navaho work, as well as using an existing engine design and nuclear warhead.
The Hound Dog was a tidy sleek dart of a missile, with a canard configuration and a big jet engine slung beneath the rear fuselage. It was powered by a single Pratt & Whitney J52-P-3 turbojet engine with 33.35 kN (3,400 kgp / 7,500 lbf) thrust. The J52 had been developed under Navy patronage and was used on the Douglas Skyhawk attack aircraft. Some sources claim the J52 was a ramjet, a confusion that probably arose because the engine intake on the Hound Dog featured a large inlet cone much like that of a ramjet.


   NORTH AMERICAN GAM-77 / AGM-28 HOUND DOG:
   _____________________   _________________   _______________________
 
   spec                    metric              english
   _____________________   _________________   _______________________

   wingspan                3.65 meters         12 feet
   length                  12.8 meters         42 feet
   height                  2.75 meters         9 feet
   total weight            4,600 kilograms     10,150 pounds
   speed                   Mach 2.1
   range at altitude       1,300 kilometers    805 MI / 700 NMI
   _____________________   _________________   _______________________


The Hound Dog carried a W-28 nuclear warhead with a yield reported of at least a megaton, and probably several times that. The missile was guided by an INS, backed up with a star tracker that was mounted on the B-52's launch pylon. The INS was not particularly accurate, though with such a big warhead it really didn't have to be. The Hound Dog was capable of a degree of simple preprogrammed maneuvering. It was intended to be used disrupt Soviet defenses and clear a path for its B-52 mothership to allow the bomber to make precision strikes on its assigned targets.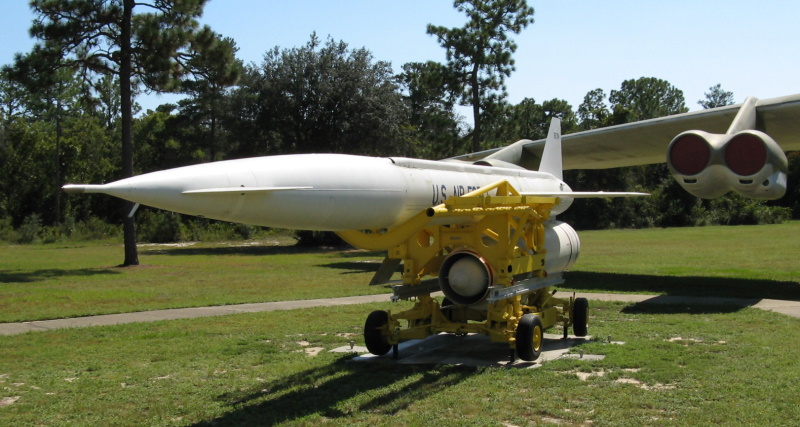 There were two versions of the Hound Dog, the "AGM-28A (GAM-77)" and "AGM-28B (GAM-77A)", with the AGM-28B featuring an improved INS and star trackers built into the missile; a radar altimeter; and a slightly increased fuel supply. The B-52 carried a Hound Dog on a pylon under each wing, for a total of two missiles. The engines of the two missiles could be used to augment the B-52's own turbojets when boost power was required, with the fuel supply of the missiles replenished by fuel from the B-52's own tanks. By 1963, when Hound Dog production ceased, the US Air Force's Strategic Air Command (SAC) had about 600 Hound Dogs on inventory.
A terrain-following system for the Hound Dog was flight-tested in 1971. Bendix was awarded a contract in 1972 to develop a passive radar seeker for the Hound Dog, with this scheme flight-tested in 1973. Neither of these features were put into production. The Hound Dog was completely out of service by 1976.
By that time, the US had fielded another standoff weapon for the B-52, the Boeing "AGM-69A Short Range Attack Missile (SRAM)". The SRAM was a simple spike of a missile with three small tailfins, powered by a solid-fuel rocket motor, carried by a B-52 in a rotary launcher installed in the bombbay. It was not a cruise missile, and so falls outside the range of this document.
BACK_TO_TOP
* The Hound Dog was "partnered" in the B-52's quiver by the McDonnell "ADM-20 Quail", which was carried by B-52s to help them penetrate defended airspace. While not honestly a cruise missile, it had similarities to one. The Quail was a small aircraft, and its wings and tail folded neatly to make it even more compact for storage. Four Quails were generally carried in the extreme rear of a B-52's bomb bay. The bombbay was fitted with a mechanical system to lower the decoys into the airstream, where they spread their wings and tail and were launched. The Quail was powered by a General Electric J85-GE-7 turbojet engine providing 10.9 kN (1,110 kgp / 2,450 lbf) thrust.


   MCDONNELL-DOUGLAS ADM-20 QUAIL:
   _____________________   _________________   _______________________
 
   spec                    metric              english
   _____________________   _________________   _______________________

   wingspan                1.64 meters         5 feet 4 inches
   length                  3.9 meters          12 feet 10 inches
   height                  1 meters            3 feet 4 inches
   max loaded weight       545 kilograms       1,200 pounds

   maximum speed           1,045 KPH           650 MPH / 565 KT
   service ceiling         > 15,250 meters     > 50,000 feet
   range                   740 kilometers      460 MI / 400 NMI
   _____________________   _________________   _______________________


The Quail was designed to be boxy in order to give it a radar cross section much like that of its B-52 mother ship, and was also fitted with active radar reflection enhancement devices, as well as chaff and flare dispensers to further confuse enemy defenses. Its autopilot system could be programmed to provide one change of speed and two turns.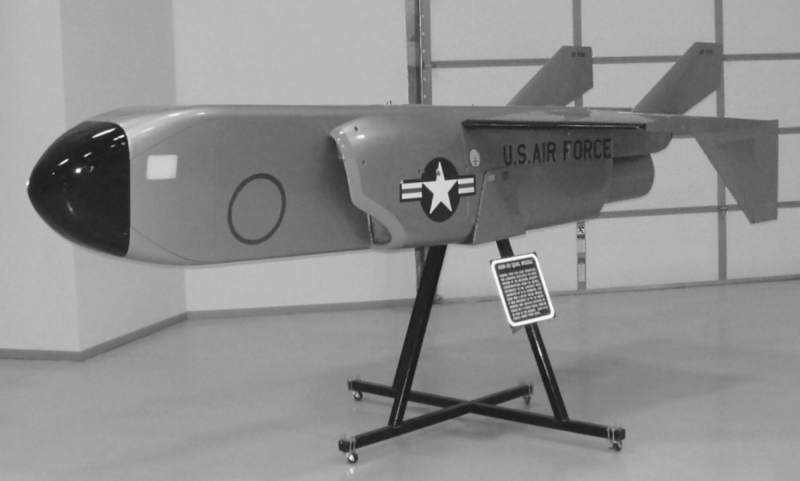 The Quail evolved from studies initiated by the USAF in 1952. In 1956, the Air Force awarded a development contract to McDonnell as prime contractor, leading to flight tests and a production contract in 1958. The first model of the Quail was originally designated "GAM-72" (later "ADM-20A"), with 24 built for flight tests in 1961. This was followed by the full production "GAM-72A (ADM-20B)", with a total of 500 built to final production in 1962. Most of the ADM-20Bs were modified for low-level operations by the addition of a barometric altimeter, and redesignated "GAM-72B (ADM-20C)", with the first ADM-20C appearing in 1963.
The Quail remained in firstline service through the 1960s, but during a test exercise in 1972, radar operators were able to recognize the decoy 21 times out of 23. The USAF began to phase out the Quail, and all were out of service by 1978.
BACK_TO_TOP
---
---

---