---
---
The Yakovlev Yak-40 & Yak-42
v1.0.3 / 01 sep 17 / greg goebel
* In the mid-1960s, the Soviet Yakovlev organization was tasked to develop a small jetliner, which emerged as the trijet "Yak-40" and proved popular. It was followed by a larger trijet airliner, the "Yak-42", which did not have the same success. This document provides a history and description of the Yak-40 and Yak-42.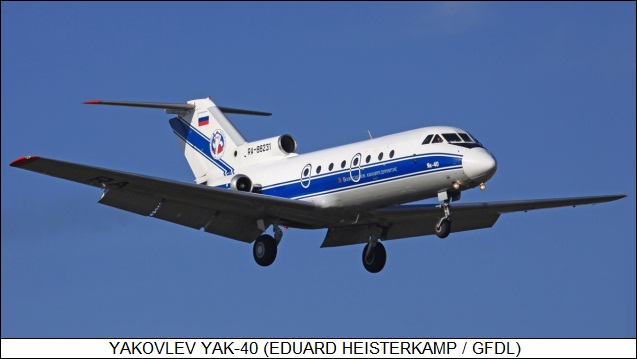 ---
[1] YAK-40 ORIGINS
[2] YAK-40 MODIFICATIONS & PROJECTED VARIANTS
[3] YAK-42 ORIGINS
[4] YAK-42 VARIANTS / YAK-242
[5] COMMENTS, SOURCES, & REVISION HISTORY
---
* In 1965, the experimental design bureau (OKB in its Russian acronym) headed by Aleksandr Yakovlev was tasked by the Soviet state to develop a light jet airliner for "feeder" operations, intended to replace old machines such as the Lisunov Li-2, a Douglas DC-3 built under license. The new Yak airliner was to be modern, simple, reliable, and capable of operating off of unimproved airstrips.
As the design emerged, the "Yak-40" was a straightforward aircraft, with tricycle landing gear, low-mounted straight wings, a tee tail with a swept tailfin and unswept tailplane, and three engines in the rear -- same arrangement as the contemporary Boeing 727, one on a pylon along each side, one in the rear of the fuselage, fed by an intake at the base of the tailfin. Initial flight of the first prototype was on 21 October 1966, with OKB test pilots Yu.B. Petrov and A.L. Kolosov in the cockpit. The initial prototype was followed by seven more prototypes and pre-production machines. Low-rate series production began at State Factory Number 262 in Saratov in 1967, with certification in 1968 and the type going into service with Aeroflot, the Soviet state airline, in that same year. NATO assigned it the bizarre reporting name of "Codling", though nobody would pay much attention to the name. The Yak-40 would prove very successful.
* The Yak-40 was built mostly of aircraft aluminum. Each long-span wing had a large three-section slotted flap to help provide good short-field performance, with a two-section manually-actuated aileron outboard, the inboard section featuring a trim tab. The variable-incidence tailplane was unswept and featured manually-actuated elevators; the tailfin was swept, less for aerodynamics than to increase the tailplane's moment arm on a relatively short aircraft. The rudder was manually actuated and featured a trim tab. In initial production aircraft, there was a bullet fairing at the tailfin-tailplane junction.
Each of the landing gear assemblies had single wheels, the steerable nose gear retracting forward, and each main gear retracting inward from the wings toward the fuselage; the main gear had no gear doors. The tires were "fat" and the gear suspension system robust, permitting operations off rough airfields.
The engines were Ivchenko AI-25 turbofans -- with a low bypass ratio of about 2:1 -- providing 14.7 kN (1,500 kgp / 3,310 lbf) thrust. Three engines were chosen instead of two larger engines to provide redundancy for greater safety. Engine starting was provided by an Ivchenko AI-9 auxiliary power unit (APU) in the tail, which also provided ground power. Engine bleed air was used for de-icing the flight surfaces; apparently the windscreen was electrically de-iced. Fuel stowage was in tanks in the center wing section.
There were two crew, not counting flight attendant, plus a jumpseat for a third crewperson. Standard avionics included a Groza-40 (Thunderstorm-40) weather radar, navigation and landing kit, a radio altimeter, an identification friend or foe (IFF) transponder, and radios. The aircraft was climate conditioned and pressurized using systems driven by engine bleed air. There was a toilet and a cloakroom in the rear.
Access to the aircraft was through a hydraulically-actuated "airstair" under the tail, leading to a rear access door; this scheme permitted the aircraft to operate out of airstrips without boarding facilities, and was another feature the Yak-40 shared with the 727. There was an inward-opening door on the forward left side of the fuselage for service access, and possibly for boarding at airports where a skyway was available. There was an emergency exit above each wing and a third emergency exit in front of the wing on the right side of the fuselage -- though the arrangement of emergency exits tended to vary over production, as did the number of windows on each side of the fuselage, either 8 or 9, with some prototypes having up to 11 windows on each side.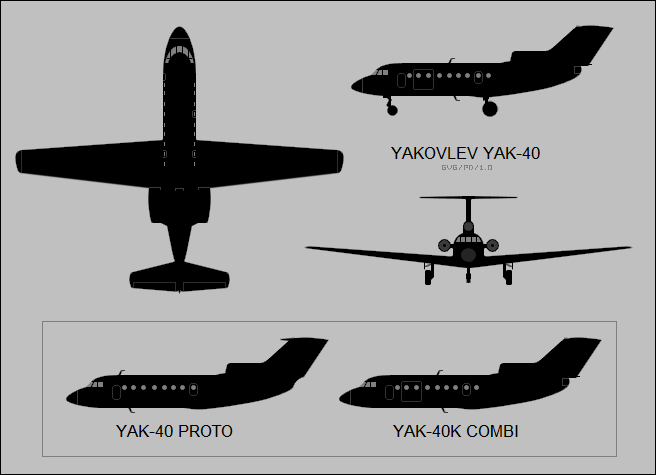 High-density seating arrangement was 32 passengers in rows of 4, but 27 seats was more practical. Mixed-class seating was 18 to 20, with 14 seats in the rear and 4 or six seats in the "upper class" forward compartment. Mixed classes were always something of an awkward feature in an Aeroflot airliner since the Soviet Union was in principle a classless society -- but what to say, there were two classes. There were also VIP or "salon" configurations, with 7 seats in a forward compartment and 6 seats in a rear. The salon configurations had amenities such as a galley or more coat storage, reflected by plugs in the windows taken up by those facilities.


   YAKOVLEV YAK-40:
   _____________________   _________________   _______________________
 
   spec                    metric              english
   _____________________   _________________   _______________________

   wingspan                25 meters           82 feet
   wing area               70 sq_meters        753.5 sq_feet   
   length                  20.36 meters        66 feet 10 inches
   height                  6.5 meters          21 feet 4 inches

   empty weight            9,400 kilograms     20,725 pounds
   MTO weight              16,000 kilograms    35,275 pounds

   max cruise speed        550 KPH             340 MPH / 300 KT
   takeoff distance        700 meters          2,300 feet
   landing distance        360 meters          1,180 feet
   cruise altitude         7,000 meters        23,000 feet
   range, max fuel         1,800 kilometers    1,120 MI / 970 NMI
   _____________________   _________________   _______________________


* Initial production of the Yak-40 was followed by three series variations in the type:
The second series featured a clamshell thrust reverser for the center engine, which gave the aircraft a bobtailed appearance. The thrust reverser was part of the airframe, not the engine, and so it was designed by the Yak OKB. Late second-series production had uprated AI-25T engines, providing 17.6 kN (1,750 kgp / 3,860 lbf) each. Second series aircraft also had additional fuel tankage in the wings, raising fuel capacity to 3,910 liters (1,031 US gallons); and could in principle handle high-density seating arrangements for up to 40 passengers -- though it is unclear if Yak-40s ever operated in such cramped "sardine can" configurations. The landing gear was reinforced to handle higher weights.


The third series was cleared for still higher weights. The recognition feature was deletion of the bullet fairing between the tailfin and tailplane, though apparently it had been deleted sometime during second series production.


The fourth and final series featured provisions for rapid conversion between passenger and cargo carriage. It led to the "Yak-40K" passenger-cargo ("combi") variant, introduced in 1976, which featured an upward-opening cargo door on the forward left side of the fuselage, the door having a height of 1.4 meters (4 feet 11 inches) and a width of 1.5 meters (5 feet 3 inches). Depending on configuration, the Yak-40K could carry 10 to 18 passengers in the rear section, along with 1,150 kilograms (2,535 pounds) to 2,150 kilograms (4,740 pounds) of freight respectively in the forward section.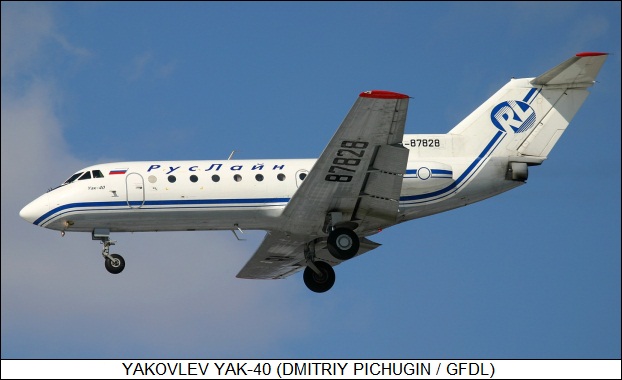 More than 1,000 Yak-40 jetliners had been built when production was terminated in 1981, with the type's advocates protesting that it was still worth making. Export users included Afghanistan, Angola, Bulgaria, Cambodia, Cuba, Czechoslovakia, East Germany, Equatorial Guinea, Ethiopia, Hungary, Italy, Laos, Madagascar, Poland, Syria, Vietnam, Yugoslavia, and Zambia. Export machines had no special designations, except for a handful of "Yak-40EC" machines with Collins avionics, and another handful of "Yak-40FG" machines for West Germany, also fitted with Westernized avionics. The type lingers in service.
BACK_TO_TOP
* With so many Yak-40s built and the type proving successful, it's not surprising that upgrade efforts were performed to keep it in service. The upgrades featured airframe refurbishment, update of avionics for international service, and very often conversion to VIP configurations. Even Yak-40Ks have been updated to VIP configurations, it appears with the cargo door sealed shut. There have also been a few "long-range" updates, designated "Yak-40D/40KD", where "D" stands for "dalniy (range)", involving addition of more fuel tanks in the wings for an effective doubling of range.
There were several special-mission conversions of Yak-40s:
Navigation aids calibration aircraft, externally similar to a "stock" Yak-40 except for a few added antennas, with such machines used by several Eastern European nations.


A number of one-off weather research platforms with names like "Akva (Aqua)", "Liros", "Shtorm", and "Meteo" -- the last being a fairly common name for a Soviet weather research aircraft. Details are not all that clear, though a photo of the Yak-40 Meteo shows a heavily modified machine with a ventral equipment pod, observation windows, and a nose probe.


Four conversions by the Polish Air Force as tow-target tugs, with the winch and other gear installed in the rear door; the forward service door had to be used by the aircrew to get in and out.


Several engine and avionics testbeds, for example one aircraft flown by the Lavochkin OKB for test of air and space vehicle subsystems.


A single prototype of a "Yak-40DTS" military transport with paradrop and medical evacuation ("medevac") capabilities was built, it seems as a modification of a stock Yak-40. It did not go into production.
There were many concepts for revised Yak-40s that were not built. The Soviets were very enthusiastic about vertical takeoff / landing (VTOL) aircraft in the 1960s, with a particular fascination for "liftjets" -- small turbojets that could be mounted near-vertically in an aircraft to provide high VTOL thrust for a short period of time. The Yak OKB came up with a design for a VTOL Yak-40 with four Kolesov RD36 liftjets in the forward fuselage and four such liftjets in the rear fuselage. An alternate, on the face of it more practical, arrangement featured four RD36 liftjets in a pod in each wing. The VTOL Yak-40 concepts were never more than "paper projects".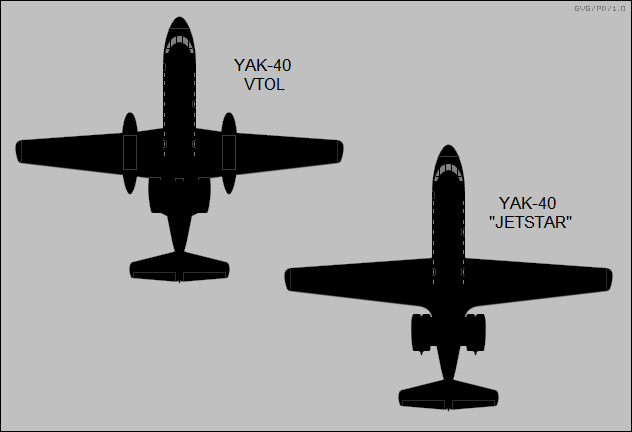 Another concept that survives as a desktop model envisioned four small engines of unknown make, two on each side of the tail, along the lines of the US Lockheed Jetstar executive jet. Apparently there was a "stretched" machine along the same lines, with four larger engines; capacity for up to 44 passengers; and twin-wheel main gear to support greater weights.
In the early 1990s, the Yak organization floated schemes for restarting production of the Yak-40, updated with twin modern small high-bypass turbofans, one arrangement featuring the Textron Lycoming L507-1N, providing better performance and range. The updated Yak-40 would have modernized avionics as well, with some design concepts featuring a slightly swept wing to increase efficient cruise speed. It was an appealing idea, but it simply didn't happen.
BACK_TO_TOP
* In the early 1970s, in response to an Aeroflot requirement, the Yak OKB began design work for a new jet airliner in response, with specifications similar to that of the Yak-40 -- for example, operation out of unimproved airfields -- but with capacity of 100 to 120 passengers. Initial design concepts resembled a scaled-up Yak-40, with straight wings but twin engines; which gradually evolved to swept wings and three engines, giving very much the appearance of a truncated Boeing 727. The Yak jetliner was given the designation of "Yak-42", recycling the designation of a single-engine turboprop airliner investigated a few years earlier, but not built.
The first of four prototypes performed its initial flight on 7 March 1975. Following successful trials, the type was ordered into production at state factories in Smolensk and Saratov. First Aeroflot service flight was in late December 1980. NATO assigned it the reporting name of "Clobber", though again nobody paid the reporting name much mind.
As it emerged, the Yak-42 was a clean aircraft, with low-mounted wings and a tee tail, all flight surfaces being swept. Although the first prototype had a wing sweep of 11 degrees, later machines had a sweep of 23 degrees. Each wing had two spars and featured a one-piece inboard flap; a one-piece outboard flap preceded by a spoiler on top of the wing; and a two-section aileron extending to the wingtip. Early production aircraft had plain flaps, while later production had slotted flaps with some minor configurational changes. Later production aircraft also had a full-span leading-edge slat in six sections on each wing. Early production machines had a bullet fairing between the tailfin and the tailplane; this was later eliminated, and still later a forward "kink" was inserted at the tip of the tailfin to accommodate a bigger tailplane.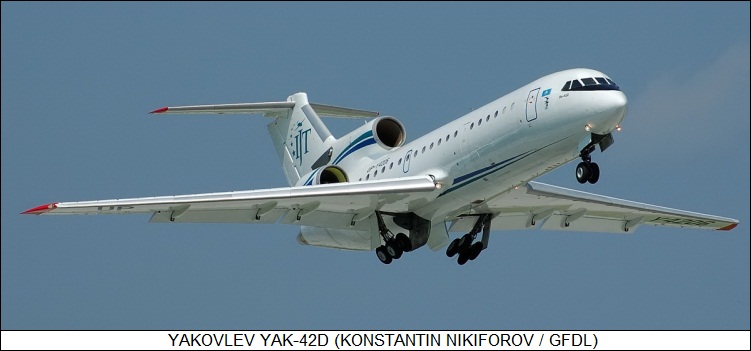 Powerplants were Lotarev D-36 turbofans providing 63.8 kN (6,500 kgp / 14,330 lbf) thrust each; no thrust reversers were fitted. Fuel tanks were in the wings and wing center section, with initial fuel capacity being 15,795 liters (4,168 US gallons), increased in 1981 to 23,175 liters (6,115 US gallons). The Yak-42 had tricycle landing gear, with twin-wheel nose gear that retracted forward and, initially, twin-wheel main gear that retracted from the wings into the fuselage. Later production had four-wheel main gear with 2x2 bogies.
Standard avionics included a Groza-42 weather radar, radio navigation systems, radios, IFF transponder, and autopilot. There were three crew, not counting flight attendants; maximum passenger capacity was 120 seats, arranged in rows of six -- though more typically the aircraft featured a two-class arrangement of 8 first-class seats and 96 tourist seats. There were twin underfloor baggage holds.
The Yak-42 retained the hydraulically-actuated tail stairway as featured on the Yak-40, but it had a service / passenger door on both sides of the forward fuselage. There was an emergency exit over each wing, with a second emergency exit on each side of the fuselage midway between the forward door and the wing emergency exit. Early production had both emergency exits over the wing; it appears that some intermediate production had the two emergency exits over each wing, plus the emergency exit positioned between them and the forward door.


   YAKOVLEV YAK-42:
   _____________________   _________________   _______________________
 
   spec                    metric              english
   _____________________   _________________   _______________________

   wingspan                34.88 meters        114 feet 5 inches
   wing area               150 sq_meters       1,615 sq_feet   
   length                  36.38 meters        119 feet 9 inches
   height                  9.83 meters         32 feet 3 inches

   empty weight            32,500 kilograms    71,650 pounds
   MTO weight              54,000 kilograms    119,050 pounds

   max cruise speed        810 KPH             505 MPH / 435 KT
   takeoff distance        700 meters          2,300 feet
   landing distance        1,800 meters        5,900 feet
   cruise altitude         7,600 meters        25,000 feet
   range, max fuel         3,800 kilometers    2,360 MI / 2,050 NMI
   _____________________   _________________   _______________________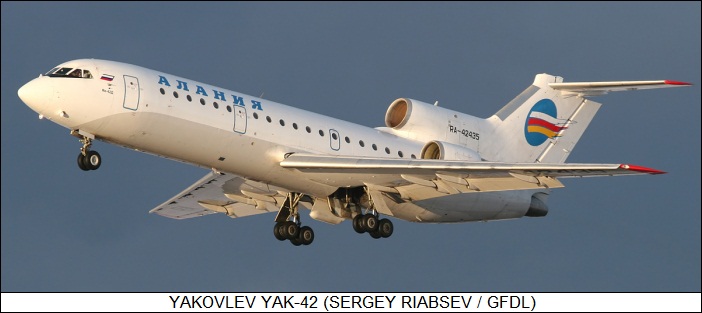 * By 1995, a total of 185 Yak-42 jetliners had been built. Foreign sales were modest, with Cuba obtaining four and Red China obtaining eight. Of course, many ended up in service with the various post-Soviet states. In comparison to the popular Yak-40, the Yak-42 was not very successful, mostly due to excessive delays in the development program; by the time it was in service, better options were available.
BACK_TO_TOP
* The baseline Yak-42 was intended for Soviet domestic service. Not surprisingly a variant, the "Yak-42ML", was also built from 1981 for international flights; it was much like the baseline Yak-42, but had some avionics for operating in foreign airspace, as well labeling in English for foreign passengers and service crews. Production moved to an extended-range "Yak-42D" variant, with added wing tanks, in 1991. Some earlier production Yak-42s were upgraded to the same spec.
From 1992, the Yak organization displayed prototypes of a "Yak-42A", which was much the same as the Yak-42D, but had Westernized AlliedSignal avionics. That and later update projects -- "Yak-42D-90", "Yak-42D-100", and so on -- went nowhere, as did a scheme to convert existing Yak-42s into "combi" machines with a large side cargo door. However, a number of Yak-42Ds have been modified into posh VIP machines. Two VIP aircraft, equipped with additional communications gear, were obtained by EMERCOM, the Russian emergency response organization, for the transport and mobile command post roles. Yak-42s have also been used as engine testbeds and one, designated "Yak-42F", was flown as a geophysical / environmental studies platform, with a large pod under each wing.
There were schemes from the outset of Yak-42 development to produce a cargolift version with a modified rear fuselage, featuring a tail loading ramp and a twin tailfins. The concept was originally designated "Yak-42T" and later "Yak-44", but in any case it never flew. Neither did follow-on designs such as the "Yak-42M", with a turbofan under each wing; the "Yak-46", with twin "propfans" in the rear; and the almost completely redesigned "Yak-242".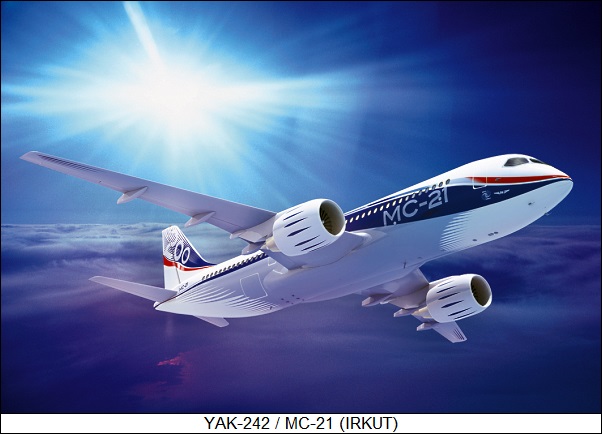 The Yakovlev organization is now pushing development along with the Irkut organization of a new-design midsize twin jetliner, initially designated the "MC-21" but to become the "Yak-242" once in production, recycling the designation for the earlier concept design. The Yak-242 will be the same class as the Boeing 737 and the Airbus A320. Seating will range from 150 to 212 passengers -- roughly twice the capacity of the configurationally similar "Russian Regional Jet", developed by the Sukhoi organization and now in service.
The Yak-242 will include extensive composite subassemblies and will be powered by twin high-bypass turbofans, one under each wing -- Aviadvigatel PD-14 engines for domestic aircraft, Pratt & Whitney PW1000G engines for export sales. The development group claims to have received orders for over 200 machines, with the Russian government placing an order for 45; the government has also made noises about developing an airborne warning and control system (AWACS) platform based on the Yak-242. The initial prototype was rolled out in June 2016, performing its initial flight on 28 May 2017. We'll see what happens with it.
BACK_TO_TOP
* As a footnote relative to mention of the Yak-44 above, that designation was recycled for a carrier-based "airborne early warning (AEW)" aircraft, the "Yak-44E" -- very much along the lines of the US Navy E-2 Hawkeye, with twin turboprop engines and a saucer radome on the rear fuselage. Work was conducted on the project through the 1980s and a full-scale mockup was built in 1991, but the program was abandoned in 1993.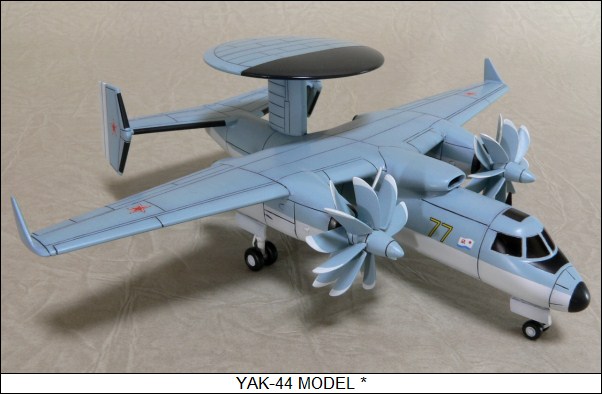 * As concerns copyrights and permissions for this document, all illustrations and images credited to me are public domain. I reserve all rights to my writings. However, if anyone does want to make use of my writings, just contact me, and we can chat about it. I'm lenient in giving permissions, usually on the basis of being properly credited.
* Sources include:
OKB YAKOVLEV by Yefim Gordon, Dmitriy & Sergey Komissarov, Midland Publishing, 2005.
The Yak organization website also provided some details on the MS-21.
* Revision history:

   v1.0.0 / 01 dec 11
   v1.0.1 / 01 nov 13 / Review & polish, Yak-242 designation for MS-21.
   v1.0.2 / 01 oct 15 / Review & polish.
   v1.0.3 / 01 sep 17 / Review, update, & polish.

BACK_TO_TOP
---
---

---