---
---
The EMBRAER Tucano & Super Tucano
v1.0.5 / 01 jan 18 / greg goebel
* In the 21st century Brazil, has become an emerging technological power, with one of the contributors to this movement being the EMBRAER aerospace company. EMBRAER is an international success story, with one of its most prominent products being the "EMB-312 Tucano" tandem-seat turboprop trainer and light attack aircraft, in service with many air arms around the world. The Tucano has been followed by the more capable "Super Tucano". This document provides a history and description of the Tucano and Super Tucano.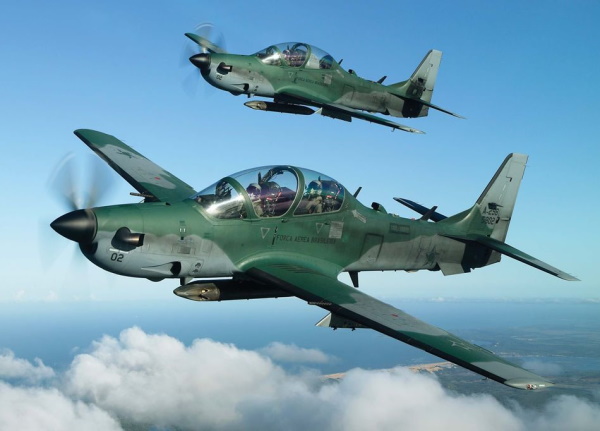 ---
[1] TUCANO ORIGINS
[2] EMB-312 TUCANO DESCRIBED
[3] SHORTS TUCANO T.1 / FRENCH EMB-312F
[4] EMB-314 SUPER TUCANO
[5] FOOTNOTE: PZL-130 ORLIK / KAI KT-1 WOONGBEE
[6] COMMENTS, SOURCES, & REVISION HISTORY
---
* Up into the early 1960s, the Forca Aerea Brazileira (FAB / Brazilian Air Force) used the classic North American T-6 Texan as the service's primary flight trainer, with the aircraft built under license in Brazil by Lagoa Santa. In 1965, the Brazilian Ministerio da Aeronautica (MdA / Air Ministry) commissioned studies with the Centro Tecnico Aerospacial (CTA / Central Aerospace Technical Organization) to develop a turboprop-engined Texan. Although this work went as far as wind tunnel tests, the notion of a turboprop-powered trainer was abandoned for the time being, with the Sociedade Neiva of Sao Jose dos Campos, Sao Paulo, commissioned to develop an entirely new side-by-side piston-powered trainer.
The "Neiva T-25 Universal", as the aircraft was named, performed its initial flight on 29 April 1966. It was a neat, conventional small piston aircraft, with tricycle landing gear. One prototype and 146 production machines were built -- some sources give more -- and at last notice the type remains in service as the FAB's primary trainer. The Sociedad Neiva proposed a number of turboprop-powered derivatives of the T-25, but none ever flew.
Although the CTA's work on the "Turbo Texan" didn't pan out, the organization also conducted design studies on a twin-engine turboprop transport, with the initial prototype of what was then known as the "YC-95" performing its initial flight in 1968. The next year, 1969, the CTA and several other Brazilian aeronautical organizations were folded into a new state-run firm, the Empresa Brasileira de Aeronautica (EMBRAER), also at Sao Jose dos Campos. EMBRAER put the YC-95 into production as the very successful "EMB-110 Bandeirante".
* By the mid-1970s, the FAB was again casting about for a new trainer. At the time, Brazil was under a military government and as a result the country was under arms embargoes. That made a locally-developed solution attractive, and in the spring of 1977 the MdA issued a requirement for a training and light strike aircraft. EMBRAER came up with two proposals, including the piston-powered "EMB-301" trainer and light strike aircraft, and the turboprop-powered "EMB-311" light attack aircraft. Sociedad Neiva also proposed a "YT-25B Universal II" trainer and light attack aircraft based on the Universal I; the firm built a flight prototype.
These designs were not what the FAB was thinking about, and so in the summer of 1977 the MdA issued another requirement, this time for a turboprop trainer and light attack aircraft. EMBRAER updated the EMB-311 into a trainer / light attack aircraft designated the "EMB-312"; it still wasn't quite what was wanted, but it seemed on the right track, so in early 1978 EMBRAER engineers reworked the design further to conform to FAB desires. In September 1978 EMBRAER was authorized to begin full development, with work on four prototypes -- two flight prototypes and two static-test prototypes -- beginning in 1979.
Initial flight of the first EMB-312 prototype was on 16 August 1980, with retired FAB Colonel Luiz Fernando Cabral at the controls and engineer Gilberto Hideo Otaka in the back seat. Trials went well, with the type being given the name "Tucano" in October 1981; the pure trainer version was the "T-27", while the trainer / light attack variant was the "A-27".
One of the prototypes was lost in an accident on 10 August 1982, but a third fight prototype had been authorized and built by that time, with this machine performing its first flight six days later. The FAB had already placed an initial production order, with the first production machine being delivered on 29 September 1983. 133 were obtained by the FAB, with the Tucano becoming the mount for the FAB's aerobatic display team, the Esquadrao de Demonstracio Aerea (EDA).
From the 1990s, the Brazilian government began to enhance on improving security in the wild backwoods regions of the Amazon basin, where drug traffickers and the like had long operated with impunity. The result was the formal establishment, in 1997, of the "SIstema de Vigilancia da AMazonia (SIVAM)" as a collaborative exercise between the FAB and other Brazilian government organizations. Tucanos were put to work under SIVAM as "gunfighters", carrying out air attacks on illegal settlements in the jungle and intercepting suspicious aircraft that might be carrying drugs.
BACK_TO_TOP
* As it emerged, the Tucano was a low-wing monoplane of all-metal construction, with retractable tricycle landing gear. It was powered by a Pratt & Whitney Canada (PWC) PT6A-25C turboprop providing 560 kW (750 SHP), driving a Hartzell three-bladed variable-pitch constant-speed propeller. There were two fuel tanks in each wing, providing four tanks with a total fuel capacity of 660 liters (174 US gallons). The aircraft was fully aerobatic.
All flight surfaces were unswept, but with tapered planforms. Flight control layout was conventional, with a one-piece slotted flap inboard on each wing plus an aileron outboard, with rudder and elevators on the tail assembly. Primary flight controls were manual, except for electrically actuated flaps. Trim tabs were fitted, as was a tailfin fillet extension, presumably to compensate for the Tucano's long and high canopy. All landing gear had single wheels and were hydraulically retractable, with the steerable nose gear retracting backwards, while the main gear hinged from the wings to retract towards the fuselage.
The crew sat in tandem on Martin-Baker BR8LC zero-zero (zero altitude, zero speed) ejection seats, under a jettisonable single-piece canopy that hinged open to the right. The cockpit was pressurized and climate-conditioned. Dual controls were standard. Two stores pylons could be fitted under each wing for a total of four, with typical stores being machine-gun pods, unguided rocket pods, or unguided bombs, to a total stores load of 1 tonne (2,200 pounds). A reflex gunsight was fitted in the cockpit for weapons aiming. The inboard stores pylons were "wet", permitting carriage of a total of two ferry tanks, providing 330 liters (87 US gallons) capacity each.


   EMBRAER EMB-312 TUCANO:
   _____________________   _________________   _______________________
 
   spec                    metric              english
   _____________________   _________________   _______________________

   wingspan                11.14 meters        36 feet 6 inches
   wing area               19.4 sq_meters      209 sq_feet   
   length                  9.86 meters         32 feet 4 inches
   height                  3.4 meters          11 feet 2 inches

   empty weight            1,810 kilograms     3,990 pounds
   MTO weight              3,175 kilograms     7,000 pounds

   max speed at altitude   450 KPH             275 MPH / 240 KT
   take-off run            380 meters          1,250 feet
   landing run             370 meters          1,215 feet
   service ceiling         9,150 meters        30,000 feet
   range, internal fuel    1,845 kilometers    1,145 MI / 995 NMI
   _____________________   _________________   _______________________


* The Tucano proved popular in the export market, particularly with other Latin American countries:
Angola bought six new-production Tucanos plus two EMBRAER company demonstrators, with delivery in 1999, followed by the purchase of six more, with delivery in 2004. The Angolan Tucanos have mostly been employed as trainers, though some apparently did perform airstrikes during the war with UNITA insurgents.


Argentina bought 30 Tucanos for training, replacing the Morane-Saulnier MS-760 Paris, with deliveries in 1987 and 1988.


Colombia bought 14 Tucanos, with deliveries from late 1992. They were intended for training, replacing Lockheed T-33s, but they quickly got involved in the long-standing and brutal fight with Colombian FARC insurgents, performing strikes with 12.7-millimeter machine gun pods, unguided rocket pods, and unguided bombs.


Egypt was actually the Tucano's first foreign buyer, initially ordering 40, including ten delivered from EMBRAER from 1984, and 30 assembled by Helwan in Egypt from EMBRAER-supplied kits from 1985, with the last of the Egyptian Tucanos rolled out in 1988. The order also included 80 machines assembled by kits by Helwan for Iraqi service. The Egyptians ordered 14 more in 1989, giving a total of 54, with the aircraft in that batch all delivered in the same year. They remain in service.


Honduras was the second Tucano export customer, obtaining eight in 1984 to replace North American T-28 Trojan trainers. While their primary mission was training, they also performed armed patrols with machine-gun pods, rocket pods, and dumb bombs; they have been credited with a number of "kills" of drug-running aircraft that refused to follow orders to land, and so were shot down.


Iran obtained 50 Tucanos in the late 1980s. This was after the Islamic Revolution, and the Tucano is one of the few Western aircraft to be acquired by Iran after the fall of the Shah. They remain in service in the training role.


Of the 80 Tucanos assembled for Iraq by Helwan in Egypt, many were destroyed or fled to Iran during the first Gulf War. It appears, however, that some did survive the second Gulf War, and are now in service with the new Iraqi state.


Paraguay bought six Tucanos in 1987. Six more were purchased in the late 1990s, but the deal fell through, and these machines ended up being the second batch sold to Angola.


Peru bought 20 Tucanos in 1986, replacing Cessna T-37s, with deliveries in 1987. They were put to intensive use in the war against drugs and destroyed over a dozen drug-running aircraft. Ten more Tucanos were purchased in 1991 to support the effort, and also fought in a border clash with Ecuador in 1995. Peruvian Tucanos are now mostly focused on the training mission.


Venezuela obtained 31 Tucanos in 1986, replacing the Hunting Jet Provost. The Tucanos saw limited action in several coup attempts in the early 1990s.
BACK_TO_TOP
* In the early 1980s, the British Royal Air Force (RAF) was after a replacement for the aging Hunting Jet Provost trainer. A number of firms competed for the contract, with EMBRAER teaming up with Shorts of the UK to offer a Tucano derivative. The Tucano won the competition in May 1985.
Shorts was to perform license construction at a plant in Belfast, Northern Ireland. The RAF Tucanos were enhanced as per contract specification, being fitted with new avionics, a modified canopy, a hydraulically-actuated ventral airbrake, and in particular a more powerful engine -- the Garrett TPE331-12B turboprop, providing 820 kW (1,100 SHP) and driving a four-blade propeller. A standard Tucano was fitted with the Garrett engine as a demonstrator, performing its first flight on 11 April 1986.
The first Shorts-built "Tucano Trainer Mark 1 (T.1)" performed its initial flight on 30 December 1986, with the first machine for evaluation delivered on 26 June 1987. Initial service delivery to the RAF was on 16 June 1988, with 131 Tucano T.1s being delivered up to final delivery in early 1993. They are used for primary training and apparently rarely, if ever, carry armament. The RAF is planning to replace them with the Raytheon T-6C Texan II.
Somewhat surprisingly, the terms of the deal between EMBRAER and Shorts allowed Shorts to sell Tucanos on the export market -- EMBRAER officials no doubt felt that being handed the royalties was good enough. Twelve Shorts Tucano "T.51s" were sold to Kenya in 1988, replacing the BAC Strikemaster, being delivered in 1990; 16 "T.52s" were sold to Kuwait in 1989, though due to the first Gulf War, they weren't delivered until 1995. Both the T.51 and T.52 were combat-capable, though they were employed as trainers.
* EMBRAER also developed a specialized variant of the Tucano for the Armee de l'Aire, the French Air Force, with the French buying what would end up being 49 machines in 1991 as replacements for the Fouga Magister jet trainer. These aircraft were designated "EMB-312F" and had various changes from Tucano standard, including a dashboard with LCD displays, ventral airbrake, de-icing gear, and structural reinforcements. They retained the PT6A powerplant. Deliveries were from 1993 to 1997.
BACK_TO_TOP
* In 1988, EMBRAER and the FAB began to consider a more powerful and combat-oriented derivative of the Tucano for counterinsurgency and anti-smuggling operations. The concept was named the "Super Tucano" and was initially assigned the designation of "EMB-312H". (There was consideration at the outset of designating it the "EMB-312F" for "Future Tucano", but the French variant of the Tucano was assigned that code instead.)
A demonstrator was built by modifying a stock Tucano with a more powerful PWC PT6A-67 turboprop engine providing 935 kW (1,250 SHP); stretching the rear fuselage by 1.31 meters (4 feet 4 inches); and fitting a ventral airbrake. Initial flight of the Super Tucano demonstrator was on 9 September 1991, with test pilot G. Predrosa Schittini at the controls. Two full prototypes were then built, the first flying on 15 May 1993 and the second on 14 October 1993. The prototypes featured a new cockpit layout and canopy, as well as a still-more-powerful PT6A-68A turboprop engine with 970 kW (1,300 SHP).
In 1994, the Brazilian government divested itself of EMBRAER, converting the organization into a private company, and in principle exposing it to the full force of market competition. EMBRAER energetically promoted the Super Tucano. The two prototypes were evaluated by the US military for the "Joint Primary Aircraft Training System (JPATS)", but though the Super Tucano got good reviews, the Raytheon-Pilatus Texan 2 -- a modified Pilatus PC-9 -- won the contract. The FAB remained interested, considering the Super Tucano as an "enforcer" for SIVAM and possibly for advanced flight training. In August 1995, EMBRAER was awarded a contract for the "ALX (Aeronave Leve de Ataque / Light Attack Aircraft)", a derivative of the EMB-312H.
The FAB specified a list of improvements, including a full glass cockpit with twin LCD multifunction displays (MFDs), a head-up display (HUD), "hands on throttle and stick (HOTAS)" controls, and night vision goggle (NVG) compatibility; updated avionics, including a new stores management system; a "wet" centerline stores pylon in addition to the four wing pylons; compatibility the Brazilian Mectron MAA-1 Piranha AAM, a Sidewinder look-alike; and twin fixed ventral fins.
The two EMB-312H machines were updated to this configuration as ALX prototypes. Further changes were specified and implemented, most significantly a reprofiled wing; a 12.7 millimeter machine gun with 200 rounds in each wing; a still further uprated PWC PT6A-68/3 engine with 1,195 kW (1,600 SHP), driving a five-bladed Hartzell propeller; a new canopy; and reinforced landing gear to handle greater takeoff weights with a heavier stores load, now up to 1,500 kilograms (3,300 pounds). The first of the two prototypes to receive the definitive set of modifications performed its first flight in its new configuration on 2 June 1999, with retired FAB Colonel Marcos Salgado de Olivera at the controls. The changes had been so considerable that the type was given a new code, the "EMB-314 Super Tucano".
The FAB wanted both a single-seat configuration, with the military designation of "A-29A", and a two-seater dual-control configuration, the "A-29B". The primary difference was that the single-seater was to have an additional fuel tank replacing the rear seat of the two-seater. The first prototype to be brought up to full spec was to single-seater configuration, with the second prototype brought up to two-seater configuration and performing its first flight on 22 October 1999.
The definitive aircraft featured Martin-Baker Mark 10 LCX zero-zero ejection seats. The design had accommodations for a forward-looking infrared (FLIR) imager turret and a defensive countermeasures system, but it is unclear from sources whether the FAB wanted these features implemented from the outset.


   EMBRAER EMB-314 SUPER TUCANO:

   _____________________   _________________   _______________________
 
   spec                    metric              english
   _____________________   _________________   _______________________

   wingspan                11.14 meters        36 feet 6 inches
   wing area               19.4 sq_meters      209 sq_feet   
   length                  11.42 meters        37 feet 6 inches
   height                  3.9 meters          12 feet 10 inches

   empty weight            2,420 kilograms     5,335 pounds
   MTO weight              3,190 kilograms     7,035 pounds

   max speed at altitude   555 KPH             345 MPH / 300 KT
   take-off run            350 meters          1,150 feet
   landing run             550 meters          1,805 feet
   service ceiling         10,670 meters       35,000 feet
   range, internal fuel    1,570 kilometers    975 MI / 850 NMI
   _____________________   _________________   _______________________


There were some political hangups in obtaining a production order, but a contract for 25 A-29A single-seaters and 51 A-29B two-seaters was signed in the summer of 2001. The first production machine went into test and evaluation in October 2003, with the Super Tucano finally going into FAB service in August 2004. The last of the FAB order of 99 aircraft was delivered in 2012.
Export sales followed introduction to service with the FAB, with buyers including:
Chile ordered a batch of 12 Super Tucanos in the summer of 2008, with deliveries from 2009.


Colombia, having found the Tucano a worthwhile acquisition, was the first export customer for the Super Tucano, ordering 25 machines in 2005. The first was delivered in late 2006, with the last delivered in the summer of 2008. The Colombian Super Tucanos have seen plenty of action against FARC insurgents, in some cases using laser-guided bombs.


The Dominican Republic ordered eight Super Tucanos in 2009.


That same year, 2009, Ecuador ordered 24, the order later being cut to 18, with deliveries from late in that year.


In 2011, Indonesia ordered what would become a total of 16 Super Tucanos, with deliveries from 2012.


In 2012, the Super Tucano was ordered by Angola, Burkina Faso, and Mauritania. Angola bought six, the other two nations three each.


In 2013, three Super Tucanos were given to Mozambique by Brazil, with Mozambique then ordering three more.


In early 2013, Afghanistan ordered a batch of 20 Super Tucanos in a US-backed deal, these aircraft being assembled in the USA, and seeing combat action from 2016. They feature minor changes in avionics, and more armor. Guatemala then ordered six, and Senegal three.


In early 2014, the United Arab Emirates ordered 24 Super Tacanos, with a portion to be obtained directly from the FAB to expedite delivery. The UAE government said a number of the Super Tucanos would be immediately passed on to the beleaguered government in Iraq for its fight against Islamic State insurgents.


In 2015, Mali ordered six Super Tucanos and Ghana ordered five.


Also in 2015, Lebanon ordered six, the Lebanese machines being assembled in the USA. Initial deliveries were in 2017. These machines were obtained along with Hellfire and 70-millimeter APKWS missiles.


In 2017, the Philippines ordered six Super Tucanos.
More export deals are in the works. Venezuela wanted to buy a batch of Super Tucanos, but Venezuela and the US were not getting along well, and the Americans were not inclined to approve the use of components of US origin in the export aircraft. EMBRAER considered replacing those components with French kit, but at last notice it hadn't happened.
One was obtained by US security firm Blackwater in 2008 for training, this unarmed machine then being sold off to an outfit named Tactical Air, which provides aerial support services for the US military, and brought up to armed spec. This aircraft was demonstrated to both the US Navy and Air Force with an eye towards use in the counter-insurgency role, the effort leading to the Super Tucanos obtained by Afghanistan. The US is also working on a sale to Nigeria.
BACK_TO_TOP
* Other countries are offering turbo trainers to compete for deals, including the Polish "PZL-130 Orlik (Spotted Eaglet)" and South Korean KAI "KT-1 Woongbee (Great Flight)".
The Orlik began life in the early 1980s as a tandem-seat primary trainer, powered by the Soviet-built Vedeneyev M-14Pm radial engine, with 245 kW (330 HP). Three prototypes were planned, with the first flying on 12 October 1983. However, during the 1980s, the USSR was becoming increasingly creaky and obtaining engines was problematic; the other two prototypes and two preproduction machines were built, but the situation was so difficult that PZL turned to use of the Polish-made Kalisz K8-AA radial engine, building a sixth aircraft with that engine fit. The K8-AA had less horsepower than the M-14Pm, making the aircraft underpowered, and by 1990 work on a piston-powered version of the Orlik had been abandoned.
That was because work on a turboprop version was much more promising. In 1984, PZL engineers had begun investigation of a turboprop Orlik, with the third Orlik prototype re-engined with a PT6A-25 and performing its initial flight on 13 July 1986. This machine was lost in a crash in January 1987, but a seventh was built with the Polish Walter M601E turboprop, with 560 kw (750 SHP). Four more "Turbo Orliks" with PT6A or Walter engines were built, being designated "PZL-130TM" and "PZL-130T".
The Polish Air Force ordered a batch of nine "PZL-130TB" machines, basically improved versions of the PZL-130TM with the Walter M601T turboprop and East European avionics. The PZL-130TB was followed by the "PZL-130TC-1", with improved avionics and Martin-Baker PL11B zero-zero ejection seats; 15 new-build aircraft and 8 upgrades were obtained by the Polish Air Force. The PZL-130 TC-1 has a span of 9 meters (29 feet 6 inches), a length of 9 meters (29 feet 6 inches), an empty weight of 1,600 kilograms (3,525 pounds), and a top level speed of 455 KPH (280 MPH / 245 KT).
Development went on in parallel on a "PZL-130TC" with a PT6A-62 turboprop and Westernized avionics. The prototype performed its initial flight on 9 July 1994, but was lost in an accident in 1996. PZL later became part of the multinational Airbus Group, and from 2014 has been promoting an Orlik "Multi-Purpose Trainer (MPT)", featuring a new wing, a glass cockpit, and other minor updates, with flight demonstrations to customers from 2014. An armed attack variant is being considered. Airbus PZL officials believe they can compete with the Super Tucano on the basis of a "significantly lower" price.
* The KT-1 Woongbee began life in 1988, with the formation of Korea Aerospace Industries (KAI), an industry group with Daewoo as the major player. The "KTX-1 (Korean Trainer Experimental 1)" was intended to replace Cessna T-37s and T-41s in the Republic Of Korea Air Force (ROKAF), and was to be the first modern aircraft designed and built in South Korea. Four flight and three static-test machines were ordered, with the first flight prototype taking to the air on 12 December 1991. Further work led to the flight of a preproduction prototype to nominal service spec in March 1998. Initial deliveries of a batch of 85 KT-1 production machines for the ROKAF began in 2000.
The KT-1 has the same general configuration as the Tucano or PC-9; it is occasionally judged to be a license-built version of the PC-9, but it is a new design. It is powered by a PWC PT6A-62A turboprop with 710 kW (950 SHP), driving a four-bladed Hartzell propeller, and has a digital glass cockpit. It has a span of 10.6 meters (34 feet 9 inches), a length of 10.26 meters (33 feet 8 inches), an empty weight of 1,790 kilograms (3,945 pounds), and a max level speed of 650 KPH (405 MPH / 350 KT).
KAI developed an armed battlefield spotter version of the KT-1, the "KO-1", and apparently a number of KO-1s were obtained by the ROKAF. An export version, the "KT-1B", was sold to Indonesia, with seven delivered in 2003 and five more delivered in 2005. A further improved export version, the "KT-1C", is being promoted on the export market; Senegal ordered four in 2016. KAI also signed a deal for 40 "KT-1T" trainers for Turkey in 2007, with an option for 15 more that was exercised in 2015.
The Turkish KT-1Ts were obtained as a stopgap; Turkish Aerospace Industries is now developing a trainer based on the KT-1, the "Hurkus" -- named after Vecichi Hurkus, Turkey's first pilot -- tailored to Turkish Air Force requirements. Three variants are planned: A low-end "Hurkus A" for civilian use, a "Hurkus B" with more advanced cockpit avionics for military use, and an attack-optimized "Hurkus C". Initial flight was in August 2013.
* India has also developed a tandem-seat turboprop trainer, the Hindustan Aerospace LTD (HAL) "HTT-40". It is of typical configuration, with initial flight of the first prototype on 31 May 2016, a second prototype following a year later. Details are still somewhat unclear.
BACK_TO_TOP
* Having written up the Pilatus turbo-trainer series, it seemed only sensible to add the Tucano series as well. Besides, my site has some Brazilian readers, and it was nice to do something to make them happy.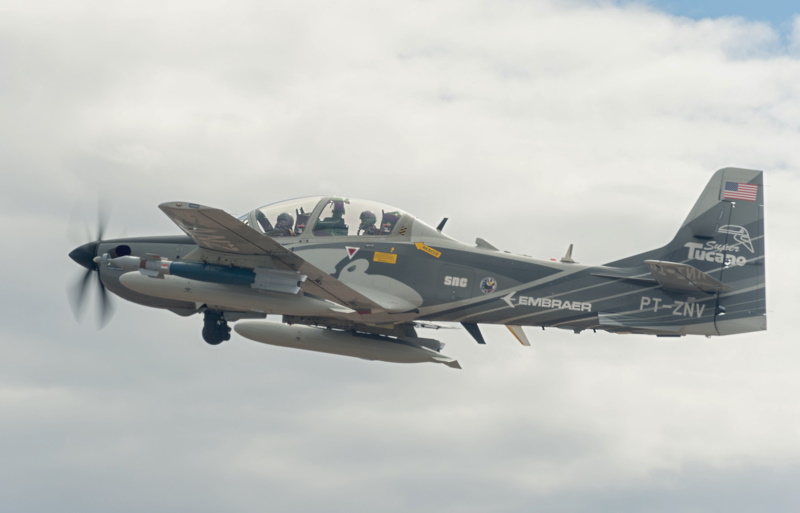 * As concerns copyrights and permissions for this document, all illustrations and images credited to me are public domain. I reserve all rights to my writings. However, if anyone does want to make use of my writings, just contact me, and we can chat about it. I'm lenient in giving permissions, usually on the basis of being properly credited.
* Sources include:
"EMBRAER EMB-312/314 Tucano & Super Tucano" by Santiago Rivas & Juan Carlos Cicalesi, INTERNATIONAL AIR POWER REVIEW, Volume 22 / 2007, 60:79.


"Flying Training Aircraft" by Bill Taylor, AIR INTERNATIONAL, May 1999, 298:300.


"Super Tucano: A Brazilian Success Story" by Santiago Rivas, COMBAT AIRCRAFT, February 2016, 82:88.
Several editions of JANE'S ALL THE WORLD'S AIRCRAFT were consulted as well.
* Revision history:

   v1.0.0 / 01 sep 08 
   v1.0.1 / 01 may 10 / Review & polish.
   v1.0.2 / 01 apr 12 / Review & polish.
   v1.0.3 / 01 mar 14 / African & Afghan Super Tucano purchases.
                        TAI Hurkus details.
   v1.0.4 / 01 feb 16 / PZL Orlik MPT.
   v1.0.5 / 01 jan 18 / Review, update, & polish.

BACK_TO_TOP
---
---
---