---
---
[2.0] Vampire In Foreign Service
v1.0.7 / chapter 2 of 3 / 01 apr 18 / greg goebel
* The Vampire was a great export success, being sold to many countries, with large numbers of machines built under license. This chapter outlines the foreign service of the Vampire and provides summary tables. Please be aware that some of the information in this chapter is redundant with details in the previous chapter.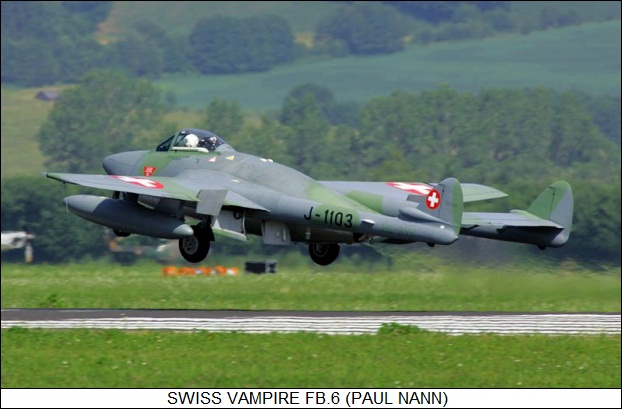 ---
[2.1] VAMPIRE IN CANADIAN, AUSTRALIAN, & NEW ZEALAND SERVICE
[2.2] VAMPIRE IN EUROPEAN SERVICE
[2.3] VAMPIRE IN MIDDLE EASTERN SERVICE
[2.4] VAMPIRE IN ASIAN, AFRICAN, & LATIN AMERICAN SERVICE
[2.5] VAMPIRE SUMMARY TABLES
---
* The Royal Canadian Air Force (RCAF) was interested in the Vampire from early on, with the service performing an evaluation of a loaned F.1 from 1946 into 1949. There were particular concerns that the Vampire might not fare well in Arctic conditions, but the evaluation revealed no undue problems on that score, and so the Canadian government ordered 150 F.3s.
Only 85 were actually obtained, being delivered from 1947 into 1948. The RCAF liked the Vampire a good deal, with a demonstration team, the "Blue Devils", flying the Vampire into 1952, when it was replaced by the Canadair Sabre. The RCAF F.3s were, as a rule, only flown in Canada; at least one Vampire squadron redeployed to the UK for a time, but used RAF FB.5s on loan. The RCAF Vampires were finally phased out in 1958, with some ending up in civilian hands, and 15 eventually being acquired by Mexico.
* The Royal Australian Air Force liked the idea of the Nene Vampire and placed an order for 80 Nene-powered Vampires in 1946, with the machines to be built by CAC in Australia. An F.1, one of the F.2 prototypes, and a Vampire F.5 were sent to Australia to provide the RAAF with familiarization on the type. The production batch included 57 F.30s and 23 FB.31s; plans for the Australian production of the improved FB.32 didn't pan out.

CAC also built 36 T.33 trainers, generally of the same configuration as early production T.11s, for the RAAF, plus 5 similar T.34s for the Royal Australian Navy. These machines were later upgraded to late T.11 spec and redesignated "T.33A" and "T.34A", with the RAN obtaining one new-build T.34A as an attrition replacement. The RAAF also obtained 68 T.35 trainers, built to late T.11 spec. Somewhat confusingly, some sources claim that a number of, even all, of the Aussie Vampires were actually built directly by de Havilland in Australia, not CAC.
The RAAF phased out their Vampire fighters in 1961, with these aircraft generally replaced by the CAC Sabre. The RAAF and RAN Vampire trainers were phased out in 1970, being replaced by the Macchi MB.326. Most of the Aussie Vampires were scrapped, but some ended up as display pieces, and a good number found their way into private hands.
* New Zealand obtained 18 FB.52s in 1950:1951, followed by six early-standard T.55s in 1952, with 8 refurbished ex-RAF FB.5s delivered as attrition replacements in that same year. A second wave of Vampire purchases followed a few years later, with 5 late-spec T.11s and 21 refurbished ex-RAF FB.5s delivered in 1955:1956.
The New Zealand Vampires generally flew only at home, though some Royal New Zealand Air Force Vampire squadrons did fly overseas, using RAF aircraft. The New Zealander Vampires served into the early 1970s, when they were replaced by the McDonnell Douglas Skyhawk and BAC Strikemaster.
BACK_TO_TOP
* Sweden was one of the early adopters of the Vampire, obtaining 70 Vampire F.1s / J 28As in 1946, followed by 310 Vampire FB.6s / J 28Bs in 1949:1952. The J 28As, with their limited fuel supply, were mostly for familiarization with jet operations until the Flygvapnet (Swedish Air Force) could obtain more satisfactory machines of Swedish design. The J 28s flew in tidy camouflage colors.
The J 28s were replaced by the SAAB J 29 Tunnan in 1953, but the Flygvapnet Vampires lingered on in the ground attack role for a few more years, with J 28As becoming "A 28As" and J 28Bs becoming "A 28Bs". They were pulled from firstline service in the mid-1950s, but some of the J 28B / A 28B machines persisted on in the training role into the late 1960s, being redesignated (once more) "Sk 28B". 25 J 28As and 17 J 28Bs were sold off to the Dominican Republic.
The Flygvapnet obtained 20 early-spec T.55 trainers under the designation of "Sk 28C-1" in 1953, followed by 15 late-spec T.55 trainers as the "Sk 28C-2" in 1955. In 1956, 12 FB.6 / J 28Bs were converted in the UK to the late-spec trainer configuration, with these machines designated "T.55A" by DH and "Sk 28C-3" by the Flygvapnet. The Swedish Vampire trainers were out of service by 1968, having been replaced by the SAAB 105 / Sk 60.
* Switzerland was another early user of the Vampire, and would keep the type in service for decades. Three Vampire F.1s were obtained in 1946 for evaluation, with a fourth obtained that same year when one of the initial three was lost in a crash.
The evaluation going well, an order for 75 FB.6s machines was placed in 1947, with these aircraft delivered from the UK in 1949:1950 and replacing Flugwaffe (Swiss Air Force) Messerschmitt Bf 109s. In 1949, an agreement was struck for the license construction of 100 more FB.6s in Switzerland, with Goblin 3 engines provided by de Havilland, fuselages provided by Pilatus Stans, the rest of the airframe provided by Aircraft Factory Altenrhein, and assembly in Emmen. These machines were delivered in 1951:1952. Three more Vampire FB.6s were assembled from spares stockpiles in 1960.
One of the de Havilland Vampire NF.10 company prototypes was handed over to Switzerland for evaluation in 1951. The conclusion of the evaluation was that the type not be adopted for service, but that machine remained in Swiss service for trials of various sorts for the rest of the decade. However, the Swiss did adopt the Vampire trainer. Finding that pilots had some trouble adapting to their new jet fighters, three early-spec Vampire T.11s were provided by de Havilland as knockdown kits in 1951 and assembled at Emmen. 30 more Vampire T.55s were built at Emmen up to 1959, with de Havilland providing the fuselages and Goblin 35 engines, the rest of the machine constructed by the Swiss. Nine ex-RAF T.11s were obtained in 1967 and updated at Emmen to T.55 standard. A few Swiss Vampire trainers were used for test and trials for weapons, cameras, and avionics.
The FB.6s originally served in the air combat role, but they were replaced in that function by the DH Venom in 1954. The FB.6s were then reassigned to the ground attack role, carrying RPs and different types of bombs. Surviving FB.6s were refitted with Martin Baker Mark 2F/V ejection seats, an improved canopy, and cockpit pressurization in 1960; the three early-spec T.11s were similarly upgraded.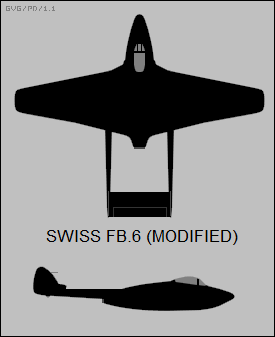 The FB.6s were retired from the ground-attack role in 1968, being replaced by the Hawker Hunter, and then the Dassault Mirage. However, the FB.6s were retained as solo trainers, and in fact 55 were upgraded in the 1970s, receiving a distinctive new long nose to accommodate additional electronics. Twelve FB.6s were assigned to the target role in 1978, being painted in gaudy red and black stripes.
The surviving Swiss Vampire force -- 59 single-seaters and 30 two-seaters -- was finally officially phased out in 1990, with the BAE Hawk taking over training duties. Many of the Swiss Vampires ended up in the hands of warbird collectors, and the "long-nose" Vampires are now a relatively common sight at airshows.
* France was another enthusiastic user of the Vampire from early on, with the Armee de l'Air obtaining 30 ex-RAF Vampire F.1s in 1948 for familiarization, followed by 94 ex-RAF FB.5s in 1949 for first-line squadron use. This led to the local license production of the FB.51 by Sud-Est, with 67 built from DH-supplied knockdown kits and 120 more built in their entirety in France. They were followed by the Nene-powered Mistrals, including the four SE.530 prototypes, the 93 SE.532s, and the 150 SE.535s. The first Mistral squadron was formed up in 1953. The French never obtained any two-seat Vampires.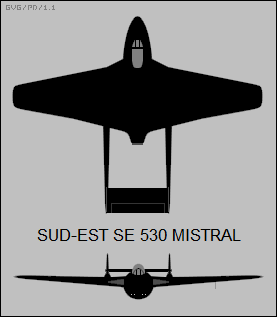 AA Vampires saw service against Tunisian insurgents in 1951, with AA Vampires and Mistrals performing similar duties against Algerian insurgents from 1955 into 1961. The Aeronavale, the French naval air arm, obtained some Vampires for training, using them in that role from 1954 into 1961.
SNECMA demonstrated an FB.5 with a Goblin engine featuring a thrust reverser in 1951, and two Mistrals were also experimentally fitted with ski landing gear in the mid-1950s. Although the French Vampires and Mistrals were generally out of service by the early 1960s, a number remained in service as radio-controlled target drones well into the decade, including four F.1s with the colorful names of Athos, Portos, Aramis, and D'Artagnan.
* Italy was yet another big Vampire user, with the Aeronautica Militare Italiana (AMI / Italian Air Force) obtaining an initial batch of 5 FB.5s in 1950, followed by 51 FB.52As in that year and 1951, and then delivery of 150 FB.52As built locally by Macchi and Fiat over the next few years. Initial flight of an Italian-built FB.52A was on 18 December 1951.
58 FB.52As were passed on to Egypt in 1955:1956 -- some, it seems, were diverted to Syria -- with Macchi building 45 more to replace them. Fuzzy records indicate another FB.52A may have been passed on to Syria as well. The AMI did not obtain any Vampire trainers, but 14 NF.54s were obtained from the UK in 1951:1953. The NF.54s were replaced by the North American F-86K Sabre from 1957, and were completely out of service by 1959; the AMI's single-seat Vampires were phased out by 1960, being replaced by F-86 Sabres and Republic F-84G Thunderjets.
* Norway obtained 20 Vampire F.3s and 36 FB.52s in 1948:1951, with six T.55s following in 1952. The Norwegian Vampire fleet had a relatively short service life, with these aircraft being replaced by more modern types in the mid-1950s. The Norwegian Vampires were generally out of service by 1957, with most of the single-seaters scrapped, and the trainers sent back to the UK for recycling.
* Finland obtained six FB.52s in 1953, followed by nine T.55s in 1955:1956. Three of the T.55s were actually from a canceled order for five machines by Ceylon (now Sri Lanka); nobody seems to be very sure what happened to the other two from that order. All the Finnish Vampires were out of service by 1965.
* Austria cut a deal with Sweden to obtain a batch of surplus Vampire F.1s / FB.52As in 1956, but the deal fell through and it appears that the J 28As didn't reach Austria -- though three refurbished machines apparently did make it as far as Geneva, where they lingered for a few years until they were finally disposed of in some mysterious fashion.
However, the Austrians went ahead and ordered three Vampire trainers from the UK, including one T.11 and two T.55s, which were delivered in 1957. Two more T.55s were delivered in the early 1960s, followed by three refurbished ex-RAF T.11s in 1964, and a final refurbished T.55, delivered in the late 1960s as an attrition replacement. The Austrian Vampires were pulled out of service in 1972, being replaced by the SAAB 105Oe.
* Ireland obtained three Vampire T.55s in 1956, followed by three more in 1960. An ex-RAF T.11 was donated in 1963 as a ground instructional airframe. The Irish Vampires were replaced by the Fouga Magister in 1975, with one Vampire ending up in private hands and a few others becoming museum pieces.
* Portugal obtained two early-standard T.55s in 1952, with these machines serving into 1961 and then sold off.
BACK_TO_TOP
* Egypt was the first Middle Eastern nation to obtain the Vampire. The country ordered 12 DH.113 night fighters, but these machines were embargoed and ended up as RAF Vampire NF.10s. However, through either a bureaucratic mixup or some sneaky dodge or both, Egypt obtained an FB.5 in 1949 and 50 FB.52s over the next few years.
The embargo was lifted in 1953 and Egypt then obtained 58 reconditioned Italian FB.52As, with some of these machines possibly diverted to Syria. The final Egyptian Vampire buy was of 12 T.55 trainers in 1955. In that year, rising tensions with Israel led to dogfights between Egyptian Vampires and Israeli Meteors, with the Israelis claiming kills.
The Israelis claimed another Vampire kill in the spring of 1956, but that was only a warmup for more serious action. After Egyptian President Gamal Abdel Nasser nationalized the Suez Canal in that year, the British, French, and Israelis seized it by force in October and November under Operation MUSKETEER. Egyptian forces took a clobbering from the invasion, losing some Vampires in air combat and many more on the ground. The US reacted angrily to MUSKETEER and told the foreign forces to get out, which they did. The USSR then began to build up the Egyptian military with modern equipment; the old Vampires were phased out of service, with some passed on to Jordan and Saudi Arabia in 1957.
* The Iraqi Air Force obtained six Vampire FB.52s and a single Vampire T.55 in 1953, when the country was effectively a British protectorate, to form up the nation's first jet fighter unit. They were followed by six more FB.52s and nine more T.55s (including one that crashed during its delivery flight) into 1955, the same year the British pulled out of the country. Iraqi Vampires were used against Kurdish rebels in northern Iraq in 1961. It seems that many of these machines were no longer in flying condition by that time, and that they faded out of service completely over the next few years.
* Jordan obtained ten ex-RAF FB.9s in 1955 and 1956, with two ex-RAF T.11s provided in 1955 and a third passed on in 1960. As mentioned, Egypt handed on seven FB.52s to Jordan in 1956; the Egyptian revolutionary government under Abdel Gamal Nasser was generally hostile to monarchies in the region such as Jordan, but this was apparently a period of temporary thaw. The Jordanians nicknamed the Vampire the "Abu Tiki", meaning roughly "the Daddy of All Whistles". Two of the FB.52s were destroyed during the 1967 Six-Day War, with the remaining six single-seaters still in service withdrawn soon after the conflict. The Vampire trainers remained in service until 1972.
* Lebanon obtained six FB.52s and four T.55s, including a de Havilland company demonstrator, in 1953:1956. Late in 1958, the US funded delivery of four ex-RAF FB.5s and three ex-RAF FB.9s. The Lebanese Vampire squadrons were disbanded in the mid-1960s, though one T.55 lingered on in aerial survey work for another decade.
* The Saudis and the Egyptians were generally at each other's throats during much of the 1950s, but in 1957, during the same period of temporary thaw, also as mentioned Egypt passed on 19 FB.52s to the Royal Saudi Air Force (RSAF). It appears that they saw little or no service with the RSAF, being withdrawn a year later. Most were simply discarded, but some ended up as displays.
* The 58 ex-Italian FB.52As sold to Egypt included a batch that was shipped through Syria, and some or all of these may have been retained there; the Italians may have also shipped 18 more later. The Syrians did order two T.55s, but they were caught up arms embargoes after the 1956 Mideast war, and never actually delivered.
BACK_TO_TOP
* The Indian Air Force (IAF) was the most enthusiastic Asian user of the Vampire. Three Vampire F.3s were delivered from the UK in 1948, with 39 UK-built FB.52s following in 1949:1951. By the time of the last FB.52 delivery from Britain, Hindustan Aircraft Limited (HAL) was working on local production of the type, with the first HAL-built FB.52 performing its initial flight on 21 February 1952 and 247 manufactured over the next few years.
India obtained 53 T.55 trainers from the UK in the 1953:1958 timeframe, while HAL also built 60 T.55s locally. Eight more T.55s were obtained from Indonesia in 1957:1958, followed by seven ex-RAF T.11s in 1963; three more "new-build" T.55s were also obtained from the UK, with these machines built from spares stockpiles after the end of trainer production. At least five T.55s were modified to carry reconnaissance cameras and redesignated "PR.55". 18 NF.54 night fighters, refurbished from British stocks, were obtained in 1954, followed by 12 more in 1957.
Two IAF FB.52s and two T.55s were passed on to the Indian Navy to support training for their Hawker Sea Hawk naval fighters. IAF Vampires saw combat during the occupation of Goa in late 1961, as well as during the 1965 Indo-Pakistan War. It appears that the Vampires suffered badly during the 1965 conflict, being no match for Pakistani North American F.86 Sabres. IAF Vampires were relegated to training after the shooting stopped, though they saw limited service in the 1971 Indo-Pakistan War. They were formally phased out in 1975.
* Burma obtained eight T.55s in 1954:1955. It is believed they saw combat against insurgents later in that decade. The ultimate fate of the Burmese Vampires is unclear.
* Indonesia obtained eight T.55s in 1955, but later in the decade the Indonesians decided to standardize on Soviet gear. The T.55s were sold off to India, as mentioned above.
* Japan obtained a single new-build late-production Vampire T.55 in 1956 for evaluation, but decided not to obtain the type.
* South Africa obtained ten Vampire FB.5s in 1950, followed by ten FB.52s in 1952 and six early-spec T.55s in 1952. The aircraft proving satisfactory, a batch of 30 FB.9s was obtained in 1953, followed by 21 late-spec T.55s in 1954 and 1955. The single-seaters lingered in service to 1967, when they were phased out, with 4 FB.52s and 13 FB.9s sold to Rhodesia. Most of the T.55s were phased out at the same time, with 19 passed on to Rhodesia, but two remained in trials use into the mid-1980s. Quite a few South African Vampires ended up as museum pieces.
* Rhodesia (now Zimbabwe) obtained 16 Vampire FB.9s (with the Goblin 3 engine) in 1953:1954, followed by 16 T.11s in 1955. Rhodesian Vampires flew under RAF control during the insurgency in Aden in 1958. Beginning in the mid-1960s, jungle-camouflaged Rhodesian Vampires flew strikes against the insurgency in their own country.
Rhodesia unilaterally declared independence from Britain in 1965, and though the country was under an arms embargo, as mentioned above the Rhodesian air force obtained more Vampires from South Africa in 1969, including 4 FB.52s, 13 FB.9s, and 19 T.55s. Rhodesian Vampires appear to have lingered in service into the 1980s, with a number of machines sold off to private collectors and museums after their end of service.
* Sweden retired their F.1 / J 28A Vampires in 1953 and searched around for a buyer. The Dominican Republic took them up on the deal, obtained 25 J 28As, which were delivered in 1956. Although the US pressured the Dominican Republic to "buy American", the Vampire seemed well-suited to their needs, and so the little country bought 17 more Vampires from Sweden, this time in the form of the much better FB.50 / J 28B, with deliveries in 1957. Dominican Vampires fought against a landing of Cuban-backed insurgents in 1959, and also saw combat in a civil war in 1965. All the Dominican Vampires were finally withdrawn from service in the early 1970s.
* Chile bought five T.55 trainers in 1953, obtaining an attrition replacement (in the form of a de Havilland T.55 demonstrator) in 1956. They were gradually replaced by Lockheed T-33s and F-80s into the early 1960s, but in 1963 the T.55s were refurbished for the ground attack role, serving in that capacity into the early 1970s. The Chileans seemed to really like the Vampire, and in 1972 obtained ten more two-seaters, including four ex-RAF T.11s and six ex-FAA T.22s, as ground-attack trainers. They served up to 1980.
* Venezuela obtained 24 Vampire FB.5s in 1949:1952. One T.55 was also obtained for evaluation in 1952, leading to an order for five more T.55s, delivered in 1958. Venezuelan Vampires saw a little action in an army mutiny in 1958. All of Venezuela's Vampires were out of service by the early 1970s.
* In 1960, the Fuerza Aerea Mexicana (FAM / Mexican Air Force) obtained 15 ex-USAF Lockheed T-33 trainers and 15 ex-RCAF Vampire F.3s to come into the jet age. The Vampires were known as "Aguacates (Avacadoes)", because of the appearance of the fuselage and because they were painted olive drab; sharkmouths were generally added to brighten them up a bit. Two ex-RAF T.11s were obtained in 1962 to complement the F.3s. All survivors were withdrawn from service in 1970.
BACK_TO_TOP
* Vampire variants and production totals include:

   _____________________________________________________________________

   variant     new  rebuilt   notes
   _____________________________________________________________________

   SINGLE-SEATERS:
   _____________________________________________________________________

   DH.100        3            Initial prototypes, Goblin engine.
   F.1         228            Initial variant, includes 70 Swede J 28As.
   F.2           2        3   Initial Nene engine variant.
   F.3         224            F.1 with more fuel, new tail.
   F.4           -            Ground attack F.2, not proceeded with.
   FB.5      1,123            Ground attack F.3 variant, clipped wings.
   FB.6        175            Swiss FB.5 with Goblin 3 engine.
   FB.8          -            Ended up becoming the Venom.
   FB.9        348            Tropicalized FB.5. 

   F.20          -       18   Carrier-based Sea Vampire.
   F.21          2            Rubber-deck landing test Sea Vampires.

   F.30         57            Initial Aussie Nene variant.
   FB.31        23            Aussie Nene ground attack variant.
   FB.32         -            Improved FB.31, not proceeded with.

   FB.50       310            Swedish FB.6, AKA J 28B.
   FB.51        87            French FB.5 variant.
   FB.52       546            Primary FB.6 export variant.
   FB.52A       78            Modified Italian FB.52 variant.

   SE.530        4            French Nene Mistral variant.
   SE.532       93            Production Mistral.
   SE.535      150            Improved Mistral.
   _____________________________________________________________________

   subtotal  3,453
   _____________________________________________________________________

   TWO-SEATERS:
   _____________________________________________________________________

   DH.113        3            Night-fighter prototypes.
   NF.10        78            Interim night-fighter.
   NF(T).10      -       36   NF.10-based navigation trainer.
   NF.54        14       30   Export NF.10.

   DH.115        1            Trainer prototype.
   T.11        526            Trainer variant.
   T.22         73            Royal Navy trainer variant. 
   T.33         36            Aussie (early) T.11s, upgraded to T.33A.
   T.34          6*           Aussie (early) T.22, upgraded to T.34A.
   T.35         68            Aussie (late) T.11s.
   T.55        322            Export T.11.
   PR.55         -        5   Indian reconnaissance conversion.
   _____________________________________________________________________

   subtotal  1,127
   _____________________________________________________________________

   SUM       4,580
   _____________________________________________________________________

   * One of the 6 was delivered in T.34A configuration.

* The following table gives a short summary of Vampires obtained by various air arms. "1S" means a single-seater and "2S" means a two-seater. Sums are provided to the right for each category and for total number of Vampires obtained by each user. No distinction is made between new-build and used machines.

   _____________________________________________________________________

   AUSTRALIA:     1S:  57 F.30    +  23 F.31                     80 
                  2S:  36 T.33    +   6 T.34   +  68 T.35       110  190

   AUSTRIA:       2S:   4 T.11    +   5 T.55                      9    9

   BURMA:         2S:   8 T.55                                    8    8

   CANADA:        1S:  75 F.3                                    75   75

   CHILE:         2S:   4 T.11    +   6 T.22   +   6 T.55        16   16

   DOMINICAN 
   REPUBLIC:      1S:  25 F.1     +  17 FB.50                    42   42

   EGYPT:         1S:   1 FB.5    +  50 FB.52  +  58 FB.52A     109
                  2S:  12 T.55                                   12  121

   FINLAND:       1S:   6 FB.52                                   6
                  2S:   9 T.55                                    9   15

   FRANCE:        1S:  30 F.1     +  94 FB.5   + 187 FB.51
                  1S:   4 SE.530  +  93 SE.532 + 150 SE.535     558  558

   INDIA:         1S:   3 F.3     + 286 FB.52                   289
                  2S:   7 T.11    + 124 T.55   +  30 NF.54      161  450

   INDONESIA:     2S:   8 T.55                                    8    8 

   IRAQ:          1S:  12 FB.52                                  12
                  2S:  10 T.55                                   10   22

   IRELAND:       2S:   1 T.11    +   6 T.55                      7    7

   ITALY:         1S:   5 F.5     + 246 FB.52A                  251
                  2S:  14 NF.54A                                 14  265
 
   JAPAN:         2S:   1 T.55                                    1    1

   JORDAN:        1S:  10 FB.9    +   7 FB.52                    17
                  2S:   3 T.11                                    3   20

   LEBANON:       1S:   4 FB.5    +   5 FB.52  +   3 FB.9        12
                  2S:   4 T.55                                    4   16

   MEXICO:        1S:  15 F.3                                    15
                  2S:   2 T.11                                    2   17

   NEW ZEALAND:   1S:  29 FB.5    +  18 FB.52                    47
                  2S:   5 T.11    +   6 T.55                     11   58

   NORWAY:        1S:  20 F.3     +  36 FB.52                    56
                  2S:   6 T.55                                    6   62

   PORTUGAL:      2S    2 T.55                                    2    2

   RHODESIA:      1S:   4 FB.52   +  29 FB.9                     33
                  2S:  16 T.11    +  19 T.55                     35   68

   SAUDI ARABIA:  1S:  19 FB.52                                  19   19

   SOUTH AFRICA:  1S:  10 FB.5    +  10 FB.52  +  30 FB.9        50
                  2S:  27 T.55                                   27   77

   SWEDEN:        1S:  70 J 28A    + 310 J 28B                  380
                  2S:  20 Sk 28C-1 +  15 Sk 28C-2
                  2S:  12 Sk 28C-2 (J 28B conversions)           47  427

   SWITZERLAND:   1S:   4 F.1     + 178 FB.6                    182
                  2S:   1 NF.10   +   3 T.11   +  39 T.55        43  225
 
   SYRIA:         1S:   ? FB.52                                   ?    ?

   VENEZUELA:     1S:  24 FB.5                                   24
                  2S:   6 T.55                                    6   30

   _____________________________________________________________________


BACK_TO_TOP
---
---
---